While health care, Trump's sledgehammer budget and hearings dominate the news, Trump has begun to roll back another Obama signature policy – fuel economy standards for cars and trucks.
Fuel economy standards are the single biggest energy efficiency policy of the Obama administration, and auto makers agreed to the deal as part of the historic bailout of their businesses.  Since 2009, they have added 700,000 jobs and have beaten the standards with innovations that wouldn't have happened otherwise.
Individuals and businesses really like going further on a tank of gas. Americans have already saved $35 billion on gas, while avoiding consumption of 270 million barrels of oil, cutting cancer-causing pollution and greenhouse gas emissions, all since 2011. Transportation accounts for a third of US emissions.
Automakers met the first goal – fleets averaging 35.5 mpg by 2016 – and the next milestone is 54 mpg by 2025. That's the goal they are agitating against because low gas prices over the past few years have translated into another boom for very profitable gas-guzzling SUV and pick-up trucks.  And electric car sales are slow, they say. They pressured Obama's EPA – and now are thrilled to have Trump, who they know will be anxious to eliminate any "burden" on industry.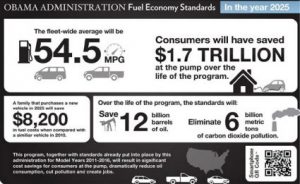 After seeing how much gas passenger and light-duty trucks were saving, the trucking industry ASKED for standards for medium and heavy-duty trucks, which are also progressing. Turns out, getting 6 mpg isn't great for trucking companies! "Fuel is an enormous expense for our industry – and carbon emissions carry an enormous cost for our planet," said Bill Graves, president of the American Trucking Association.
Have you ever seen an ad for plug-in or electric cars?  The answer is No or Rarely. Have you seen ads for SUVs? The answer is Constantly. 
Research on national TV ads confirms this, and there's also a dearth of electric vehicles (EVs) at dealerships. Either don't stock EVs at all or have a few hidden in the back. Forget a test drive! Salespeople aren't trained on their benefits and often aren't aware of state and federal tax credits and rebates. Another survey finds that 60% of Americans don't even know that plug-ins exist and that 80% have never been in an EV.
In Fact, 2025 Standards Could Be Stronger
in the waning days of the Obama Administration, the EPA released a comprehensive analysis of the 2025 standards as pressure mounted to ease the burden from the auto industry.  The 1200-page report concludes auto manufacturers can meet the 2025 standards both in terms of cost and technical achievement. Technologies are developing more quickly and at even lower costs than EPA originally projected, it says, and cars purchased in 2025 will save about $1 trillion in gas over their lifetime, while avoiding pollution equivalent to that produced by the entire United States for a solid year.
"Although EPA's technical analysis indicates the standards could be strengthened for model years 2022-2025, proposing to leave the current standards in place provides greater certainty to the auto industry for product planning and engineering," says the report.
A new study confirms EPA's analysis: "Our research casts fresh doubt on automakers' claims that the standards are too difficult and costly to meet," says the International Council on Clean Transportation. Automakers are inflating the costs by at least 35%.
81% of Americans support the Clean Car standards, according to a 2016 Consumer Federation of America survey, and "UAW members know firsthand that these standards have spurred investments in new products that employ tens of thousands of our members."
Problems for auto manufacturers come from concessions they extracted from Obama's EPA. They negotiated:
Gradual improvements in fuel mileage in the early years, followed by steep increases in the final years of 2021-2025.
Weaker standards for larger vehicles
Special exemptions for SUVs and vans: they are classified as light trucks, which have weaker standards than cars.
Even with these loopholes,  vehicle carbon emissions have been declining by an average 2.3% a year, reports Yale360.  "Before the election, automakers had plans well underway to re-engineer their vehicles in line with tighter standards over the coming decade. Ample technology is in the pipeline for making steady gains in efficiency (and steady cuts in CO2 emission rates) for years to come. The feasibility of meeting the standards has been studied exhaustively for many years now. These studies all conclude that steady refinements of gasoline engines — cutting excess mass through high-strength steel and other advanced materials — and further streamlining would not only enable automakers to reach the standards now targeted for 2025, but also continue improving efficiency beyond that. Over the five-year phase-in leading up to the 2025 target, the incremental cost per vehicle will average only $240 per year," says Yale360.
But instead of following through on their 2015 commitment, automakers want another bailout. And that's even with numerous models already close to meeting the target – the Honda Civic, for example, already meets 2023 standards.
Then there's the issue of industry competitiveness.  Canada, the EU, China, India, South Korea and other countries all have similar, if not stronger standards to meet. Before the US instituted our standards, car companies produced more efficient vehicles in Europe and less efficient ones in the US, all the while claiming they couldn't do any better.
"Our cars and trucks are not nearly as clean as they should be, but they're a lot cleaner than they used to be – more than 40% less polluting than they were 20 years ago," says Heather Leibowitz, Director of Environment New York.
Trump Rolls Them Back Anyway
Now Trump is directing his EPA to do the analysis again, due April 2018. It will have to substantiate any recommendation to rollback the rules, they can't just "do it." And they must hold the same series of hearings and get public input to unravel them as Obama's EPA did to put the rules in place.
US automakers are known for "sky is falling" howls. They protested requirements for seat belts, air bags, catalytic converters and then low emission vehicles, claiming they would kill the industry. Lee Iacocca famously argued against the 1970 Clean Air Act because it "could prevent continued production of automobiles … threatening the entire American economy."
"These claims have proven false time and again and EPA's Phase II Clean Cars standards are no different. They have helped spur U.S. automakers to offer a more diverse and more efficient mix of vehicles. As a result, their fleets will remain attractive to consumers in the years ahead, especially when gas prices inevitably rise again," says Environmental Defense Fund.
Cities and States Push Back
Will Trump also demand the rollback of California's waiver, which allows the state to go beyond federal rules? We don't know yet.
Nine states have followed California's lead requiring automakers to sell an increasing percentage of zero-emission vehicles. They must reach 4.5% of sales in those states by 2018, rising to 22% in 2025. The states are: Maine, Vermont, Connecticut, Massachusetts, Rhode Island, New York, New Jersey, Maryland and Oregon – all blue states, of course.
Los Angeles Mayor Eric Garcetti is coordinating electric vehicle purchases for 30 cities who want to spend $10 billion on electric cars and trucks to demonstrate demand to automakers. Their RFP asks automakers for the cost of supplying 114,000 electric vehicles for their fleets of police cars and trucks like garbage haulers.
In 2016, 160,000 plug-ins sold in the US.
Attorney Generals from the same 10 states released a joint statement vowing to "vigorously oppose attempts by the Trump Administration to weaken vehicle emission policies and put our public health at risk," as well as their right to adopt even stricter pollution standards. California and New York will intervene in a lawsuit brought by the Alliance of Automobile Manufacturers this week to weaken the 54 mpg goal.
"California is forward-leaning. For us, clean air, good-paying jobs and quality of life go hand-in-hand. There's no turning back in the fight against pollution, states Attorney General
Xavier Becerra
.
Auto and Oil Industry versus Utilities?
While automakers want the rules relaxed to save them money, the oil industry stands to gain from people using more gas to run their vehicles. But utilities really like EVs because they will sell a lot more electricity without the expense of building more power plants.
Kansas City Power & Light, for example, is investing $20 million on 1000 charging stations and in the process, creating one of the fastest-growing markets for EVs in the country. Charges are at workplaces, apartment garages, grocery stores, parking lots and malls, and stadiums. Best yet, the electricity increasingly comes from wind.
Read our article, Utilities Get Paid to Build Out Washington State's Electric Vehicle Charging Infrastructure.
PushBack Against EVs Grows Stronger
Like we've seen from utilities adding fees because they are threatened by solar, the oil industry is working to discourage adoption of EVs.  The Koch Brothers and their peers convinced 10 states to charge fees to hybrid and EV owners, varying from $50 to $300 per driver per year.  Eight more states are moving in that direction this year.
Since Georgia replaced its $5000 tax credit with a $200 annual fee, sales of EVs plunged 80% after being the second-largest market in the US. Only 16 of the 25 states that offered financial incentives for EV purchases still have them, thanks to the Koch Brothers and ALEC (the Koch's are among its biggest funders).
A new group formed by the Koch Brothers is spending $10 million a year to convince Americans to stay away from EVs and stick with good 'ole petroleum. ALEC's resolution, which discourages states from supporting EVs, is making its way across the country.
Utah just voted down a bill to extend its $1500 tax credit for EVs through 2021 and Colorado will soon vote on whether to continue its $6000 tax credit – the most generous in the US, reports DeSmog Blog.
The oil industry has also been trying to keep the biofuels industry down – another potential competitor, but now they have found common ground in working together to oppose all financial support for EVs.
There's reason for big oil to be scared. In 2015, 13 US states and four countries signed onto the International Zero Emission Alliance, pledging that all new passenger vehicles sold will be zero emissions no later than by 2050. 
By 2020, EV prices are expected to be much lower, and by 2040, they are expected to have a 35% market share, according to Carbon Tracker Initiative.
Read our article, 2016 Has Been A Great Year for Electric Cars.
(Visited 4,501 times, 130 visits today)