When you drill down on where most of the world's greenhouse gases come from, besides the use of coal in power plants the target is squarely on eight of the biggest oil companies. Together, they produce as much carbon dioxide as the entire US, which is the second largest emitter in the world (after China).
The companies are: Saudi Aramco, Russia's Gazprom, National Iranian Oil, Exxon Mobil, Petroleos Mexicanos (PEMEX), Royal Dutch Shell, BP and China National Petroleum Corp. They are responsible for 20% of all greenhouse gases since 1988, and the entire oil and gas industry has produced about 40% of all carbon emissions, according to CDP.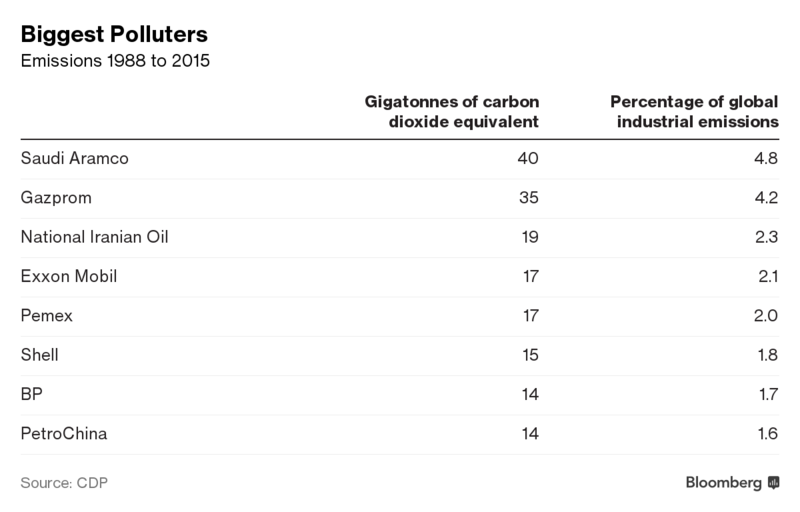 Shell, which wants people to view it as a responsible company, crushed its reputation when it insisted on drilling in the US Arctic.  Now, it's selling off its Canadian tar sands assets for a sweet $7.5 billion to cut debt and respond to investor concerns about its role in climate change. Going forward, 10% of director bonuses will be tied to management of greenhouse gas emissions and is reviving its New Energies division after closing it in 2009. An initial $1.7 billion investment will support wind, hydrogen and biofuels, to be followed by $1 billion a year by 2020. Most of its business, however, will be in natural gas.
Shell's CEO, Ben van Beurden, says the industry must transition to cleaner forms of energy or risk losing public support. "I do think trust has been eroded to the point that it is becoming a serious issue for our long term future," he told Bloomberg.
Chevron and BP closed their renewable energy divisions a few years ago because profits were insignificant compared to fossil fuels, and so far they're sticking with that.
Norway's Statoil, a much smaller oil player, divested from tar sands holdings last year. Its New Energy Solutions division won the lease to develop the first major offshore wind project in the US – 800 megawatts off the coast of Long Island, NY. It's built two offshore wind farms in Britain and two more are under construction, one of which will be the world's largest floating windfarm – Hywind.  Last year, it  launched Energy Ventures, a venture capital fund for startups in efficiency, renewables, energy storage and smart grid, and recently announced it would cut carbon emissions 20% by 2030.
Another fossil giant, Total – which has a majority stake in SunPower – has its sights on becoming one of the top three solar players in the next few years. It's also taking a leadership position in biofuels for airlines, and getting into energy storage.
Unfortunately, most of the Top 8 carbon emitting oil companies on the list above plan to keep on pumping. But while Trump will follow through on the Keystone pipeline, the activism against tar sands is paying off. Maybe there won't be enough tar sands production to send any oil through that pipeline!
Read our articles, Europe's Biggest IPO Is In Renewable Energy, As Fossil Companies Adapt to Energy Transformation and 50 of the World's 500 Biggest Companies Undermine Progress on Climate Change.
(Visited 2,181 times, 74 visits today)