Late last year, the Commission on Human Rights of the Philippines agreed to examine the biggest 50 greenhouse gas producers for their part in causing climate change and the human rights violations that have resulted.
The investigation has ended with a scathing 60-page letter to the 47 largest oil, coal, cement and mining companies in the world. They have 45 days to respond to a legal complaint that says they have violated the rights of Philipino citizens, depriving them of basic rights to "life, food, water, sanitation, adequate housing, and self determination."
In October, public hearings will begin in the Philippines – the first-ever by a government – as part of a full legal investigation.
All the companies will be ordered to attend, but the Commission can only force those with offices in the country: Chevron, ExxonMobil, BP, Royal Dutch Shell, Total, BHP Billiton, Anglo American, Lafarge, Holcim, and Taiheiyo Cement Corp.
The letter is addressed to corporations "responsible for the majority of fossil fuel products that have been manufactured, marketed, and sold since the industrial revolution and have contributed the lion's share of cumulative global emissions of industrial CO2 and methane," says Greenpeace International, one of the petitioners behind the move of the Philipines government.
21 companies are based in the US, and almost all the others are from Canada and Europe.
The companies will have to answer this question: how human rights violations resulting from climate change will be "eliminated, remedied and prevented."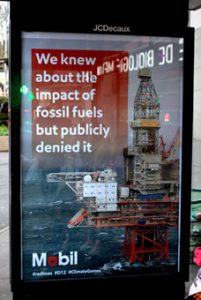 According to the Climate Accountability Institute, just 90 companies are responsible for two-thirds of the world's greenhouse gas emissions. 
The Philippines is being pummeled by the biggest typhoons ever, increasing floods and heatwaves. From 1998-2009, over 12 million people were exposed to storms at a cost of $24.3 billion – almost 24% of GDP, according to the IPCC.
Fossil fuel corps are beginning to feel the "heat" – they are also under investigation by 20 states in the US.  
(Visited 7,122 times, 4 visits today)