The world's first vertically integrated renewable energy company has been born with the merger of Tesla and SolarCity, announced today!
When Elon Musk revealed his proposal to acquire SolarCity in June, investors moaned and Tesla's stock dropped, but his plan is about transforming the energy landscape on our planet, not about short-term profits.
Tesla has a hard time as it is delivering cars on time, investors say, why would they take an entirely new business on? Neither company is profitable yet, both need cash and both face greater competition.
The $2.6 billion all-stock deal will bring affordable solar (SolarCity) and energy storage (Tesla) to the world. Customers will get an "aesthetically beautiful and simple one-stop solar + storage experience: one installation, one service contract, one phone app," they say, all at lower costs.
Elon Musk chairs SolarCity's board and is the cousin of Lyndon Rive, CEO of SolarCity. Combined, they are worth about $5.7 billion, according to Bloomberg.
In June, Elon Musk wrote, "Tesla's mission has always been tied to sustainability. We seek to accelerate the world's transition to sustainable transportation by offering increasingly affordable electric vehicles. And in March 2015, we launched Tesla Energy, which through the Powerwall and Powerpack allow homeowners, business owners and utilities to benefit from renewable energy storage.
It's now time to complete the picture. Tesla customers can drive clean cars and they can use our battery packs to help consume energy more efficiently, but they still need access to the most sustainable energy source that's available: the sun.
The SolarCity team has built its company into the clear solar industry leader in the residential, commercial and industrial markets, with significant scale and growing customer penetration."
In July, Musk released Tesla's next strategic plan, which includes a self-driving cargo and pickup truck, a smaller-than-usual bus, and a small SUV. Also planned is a Uber-like service where Tesla car owners can rent their idle vehicles.
Another part of the plan is now in motion: provide a renewable energy package that combines rooftop solar with Tesla batteries that store enough energy to power a home at night, recharge an electric vehicle, and send any extra energy back to the grid.
Gigafactory Opens
Also last week, Tesla's $5 billion battery factory in Nevada opened even though it's only 14% complete. The 10 million square foot building will be the world's largest when complete.
When 325,000 people reserved the new Model 3, Tesla moved production plans forward (and raised $1.7 billion) to meet its goal of making 500,000 vehicles a year by 2018. Tesla's Powerwall will also be made there.
About 1000 people are working two shifts, seven days a week so the factory can begin production this year.
The net-zero energy building will be covered in solar panels:
SolarCity is also building a Gigafactory in Buffalo, NY to achieve a "breakthrough in the cost of solar power."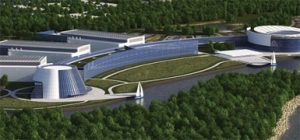 While the merger is likely a done deal, another company could come in with a higher offer for SolarCity, and regulatory approval is also needed. If all goes well, the companies will become one late this year.
(Visited 7,824 times, 9 visits today)