This might be the case we've been waiting for, as the first-ever investigation of the largest fossil fuel companies proceeds in the Philippines.
In early 2016, the Commission on Human Rights of the Philippines will examine the biggest 50 fossil fuel companies for their part in causing climate change and the human rights violations that have resulted.
"The response of the Philippines' Human Rights Commission to the petition signals a turning point in the struggle to avoid catastrophic climate change. It opens a critical new avenue of struggle against the fossil fuel companies driving destructive climate change," says Kumi Naidoo, Executive Director of Greenpeace International.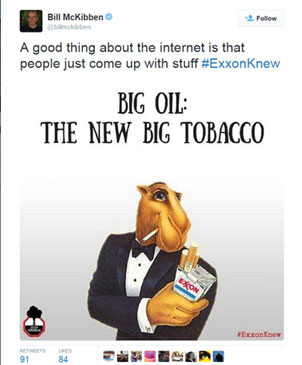 "This should hopefully inspire other human rights commissions around the world to take similar action. If I were a CEO of a fossil fuel company, I would be running scared. This is yet another indication that we are seeing the end of the fossil fuel era."
The petition maintains that "climate change interferes with our fundamental rights as human beings," hence, we demand accountability of those contributing to climate change."
"This investigation is not just about how fossil fuel companies do business, but that they do business at all in the future. It's time we held to account those who are most responsible for the devastating effects of climate change," says Zelda Soriano of Greenpeace Southeast Asia.
The petition was filed in September by Greenpeace Southeast Asia, Amnesty International, Union of Concerned Scientists and other organizations and 20 individuals, including survivors of the 2013 Typhoon Haiyan, which killed at least 6300 people – and displace 4.1 million – in the Philippines alone.
It asks the Commission on Human Rights of the Philippines to:
officially put the companies on notice
request companies' plans for how they intend to eliminate, remedy and prevent further damages
recommend to the government how climate victims can be monitored and assisted through human rights policies.
These companies have for too long been invincible and is it time for their social license and role in climate change be called out, says Greenpeace. "This is one step in a legal strategy of making sure those complicit in climate change are held accountable," Anna Abad at Greenpeace Southeast Asia told Reuters.
"The real life pain and agony of losing loved ones, homes, farms – almost everything – during strong typhoons, droughts, and other weather extremes, as well as the everyday struggle to live, to be safe, and to be able to cope with the adverse, slow onset impacts of climate change, are beyond numbers and words."
One petitioner says her family huddled in the attic while Manila was flooded during the 2009 typhoon. "We saw floating people, floating animals, floating coffins. We could not do anything, we could not help them. It was like watching a horror movie, she told Reuters.
Investigators know it will be an uphill climb to hold fossil fuel companies accountable for deaths and financial losses, but the issue isn't about winning or compensation right now. It will strengthen growing opposition to the fossil fuel industry, turning away investors – their biggest priority.
Roberto Cadiz, a member of the Commission, told Reuters he feels duty bound to take the case because losses from extreme weather are mounting so rapidly and because efforts to curb emissions are moving too slowly.
Petitioners say there are lots more to come.
Meanwhile, more than 500 institutions representing $3.4 trillion in assets are divesting from fossil fuels, up $1 trillion since September, and 20 French cities (including Paris), Melbourne, Australia and Oslo, Norway.
Read our article, "Teenagers Win on Climate Change in Washington State Court."
(Visited 3,874 times, 7 visits today)