Last week, China announced it will cut emissions from coal-fired power plants 60% by 2020, and now the news is even better.
Global emissions are expected to fall 0.6% this year because of one country – China's emissions will decline 3.9% in 2015, after a decade of rising by nearly 6.7% a year, reported in Nature Climate Change. Lower petroleum consumption and faster growth of renewable energy also contributed. This will be the second year world emissions haven't risen along with economic growth, a really positive sign.
Read our article, Shout It From the Rooftops! No Emissions Rise in 2014.
"This indicates the old assumption of economic growth being dependent on rising fossil fuel use is broken. It should cheer anyone concerned that climate change might be insoluble, and encourage ministers meeting at the UN climate summit in Paris that pragmatic curbs on their carbon emissions are compatible with economic development," Richard Black, director of UK thinktank, Energy and Climate Intelligence Unit, told The Guardian.

It's Mostly Because of Coal
World coal use may have peaked in 2013, as consumption is down in all the largest consuming nations, with the possible exception of Russia, which didn't make data available, according to the Institute for Energy Economics and Financial Analysis.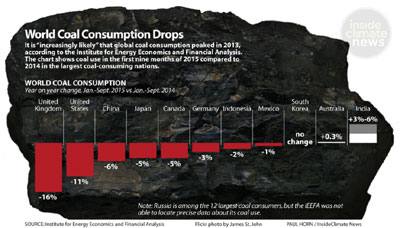 Credit: InsideClimate News – click for a larger image.
And coal consumption may have peaked in China in 2013, seven years ahead of its commitment with the US.
As of September, China's coal use is down 5-8% this year, according to the Institute for Energy Economics and Financial Analysis, after falling 2.9% last year for the first time in decades.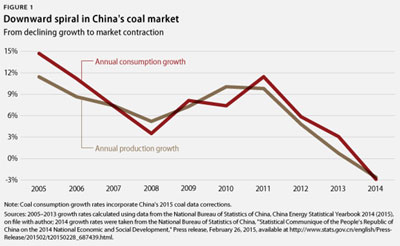 credit: ThinkProgress
China's Situation
It looks like China is doing what many thought impossible – turning away from completely unsustainable growth – through a combination of policies, such as strong fuel economy standards, energy price reforms, and aggressive expansion of renewable energy. New policies will further cut coal use – particularly national cap-and-trade and a "green dispatch" system which prioritizes renewable energy as the "first fuel" for the electric grid.
Only after all zero and low-carbon energy sources have been used, can dirty energy sources be deployed. In the past, it was wind plants that remained idle as coal was used first.
"In 2014, Beijing shut down more than 1000 coal mines. Beijing is rolling out fast-track provincial- and municipal-level coal-control and emission-reduction policies that are putting some Chinese provinces and cities on a path to peak emissions as early as 2020 or 2022." Regions covered by these policies "account for over 66% of the nation's GDP," says a new report from Center for American Progress, "Beijing's Energy Revolution Is Finally Gaining Serious Momentum."
"In sector after sector, Beijing is working to downshift old growth engines and kick-start new ones. Many contracting industries – cement, steel, and iron – are some of China's biggest coal consumers. As those industries contract, coal demand dries up and the coal sector shrinks as a result. Beijing is also intentionally ratcheting up coal prices to make those energy-intensive sectors less competitive, as well as to make coal less competitive vis-à-vis renewables."
The average utilization rate for coal plants dropped to 54% in 2014, the lowest since the late 1970s, when China's massive growth began, reports ThinkProgress. Coal imports declined 11% last year and 37% so far in 2015 – putting many the mammoth new mines planned – such as in Australia – at risk.
Meanwhile, clean energy capacity is growing 30-60% a year, depending on the sector. 444 gigawatts is installed and another 800-1000 GW are planned by 2030 to reach 20% of energy. That means, over the next 15 years, China will add the equivalent clean energy as the entire US electric grid, says the report.
US conservatives blast the US-China agreement, saying it gives China another 15 years to "do nothing." "That argument reflects a fundamental misunderstanding about what it takes to slow, stop, and reduce the emissions of a large economy in order to achieve a 2030 emissions target," says Center for American Progress.
As of now, China is responsible for 28% of world emissions, according to the World Resources Institute. If India becomes the new China, clearly emissions will rise again. India's emissions are expected to rise 6.7% this year, according to research published in Nature Climate Change.
Researchers estimate humans have sent 555 billion tons of carbon into the atmosphere since 1870.
Read our article, Coal Boom Finally Ends.
Read the Report, "Beijing's Energy Revolution Is Finally Gaining Serious Momentum":
Website:
[sorry this link is no longer available]
(Visited 3,940 times, 11 visits today)