Russia's President Putin wants to be a world leader in exports … of organic food.
In his annual speech to the Russian Parliament – comparable to the State of the Union in the US – Putin spoke of fighting terrorism, Turkey … and agriculture.
"Not only can we feed ourselves, but also taking into account our land and water resources – which is particularly important – Russia could become the world's largest supplier of healthy, environmentally friendly, high-quality food that has long been missing in some western producers," especially as demand on the global market for such products is growing, Putin told Russia's Federal Assembly, reports Interfax.
By 2020, Russia must be self-sufficient in providing its own food, he said. The country no longer imports food from the US and Europe in retaliation to sanctions against its actions in Ukraine, and now it is adding Turkey because it shot down the Russian airplane.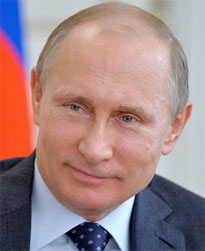 Putin notes that 10 years ago, Russia imported almost half its food and depended on imports, but now it is an exporter – almost $20 billion dollars last year. That's 25% more than Russia's revenue from selling military equipment and a third of gas exports, reports RT.
This year, Russia banned GMOs from farming and passed a law mandating labels on all products that contain GMOs. The law imposes fines for vague or unclear labeling, reports Sustainable Pulse.
"If Americans like to eat GMO products, let them eat it. We don't need to do that; we have enough space and opportunities to produce organic food," says Deputy Prime Minister Dmitry Medvedev. "Russia has chosen a different path. We will not use these technologies."
Russia will not "poison its citizens," says Nikolai Fyodorov, Minister of Agriculture.
Go for it, Russia!
Let's not forget that organic agriculture is a major solution to climate change and even biodiversity loss, which would make it easier for Russia to meet ambitious emission targets.
Read our article, Mexico and Russia Among The First to Submit Climate Pledges.
(Visited 3,787 times, 1,521 visits today)