Teenagers are celebrating their first big win in court, where a Washington State judge confirmed the state "has a constitutional obligation" to protect natural resources held in the public trust – in this case, protecting the atmosphere from climate change.
Eight teenagers took the state to court when the Department of Ecology refused to set science-based emissions targets, claiming they aren't allowed to regulate greenhouse gases.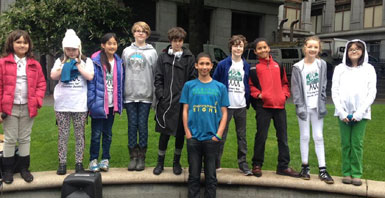 Judge Hill, of King County Superior Court, issued a landmark decision which says the youth's "very survival depends upon the will of their elders to act now, decisively and unequivocally, to stem the tide of global warming … before doing so becomes first too costly and then too late."
The State has a "mandatory duty" to regulate emissions to "preserve, protect, and enhance air quality for current and future generations," the judge writes, finding that Washington's current goals fail dramatically.
"Current scientific evidence establishes that rapidly increasing global warming causes unprecedented risk to the earth, including land, sea, the atmosphere and all living plants and creatures," the judge writes.
"It's incredible to have the court finally say that we do have a right to a healthy atmosphere and that our government can't allow it to be harmed," says 13-year-old petitioner Gabriel Mandell. "This ruling means that what the Department of Ecology does going forward in its rulemaking has to protect us, the kids of Washington, and not just us, but future generations too, like my children and those to come. Now they can't decide to protect short-term economic fears and ignore us because we have constitutional and public trust rights to a stable climate!"
"We will hold Ecology accountable every step of the way to make sure that Judge Hill's powerful words are put into action. This is a huge victory for our children and for the climate movement, says Andrea Rodgers, an attorney with Western Environmental Law Center.
Last year, youth petitioned the state to develop science-based emissions targets and strategies. When it refused to do so, they went to court, and the judge ordered the state to reconsider. But they haven't.
Similar cases are pending in Massachusettes, Pennsylvania, North Carolina, Colorado, and Oregon. 21 youth and Dr. James Hansen are suiting the federal government. The petroleum industry has asked to intervene in the federal case, calling it "a direct threat to their businesses."
Imagine that, a bunch of teenagers going to court threatens the entire petroleum industry!
Read our article, Momentum Builds for Court Action on Climate Change
Read the judge's decison:
(Visited 4,614 times, 12 visits today)