In advance of the Paris Climate Summit, 218 American universities – representing over 3.3 million students – signed an Obama Administration pledge to take on climate change and urge a strong international agreement.
The American Campuses Climate Pledge says:
"As institutions of higher education, we applaud the progress already made to promote clean energy and climate action as we seek a comprehensive, ambitious agreement at the upcoming United Nations Climate Negotiations in Paris. We recognize the urgent need to act now to avoid irreversible costs to our global community's economic prosperity and public health and are optimistic that world leaders will reach an agreement to secure a transition to a low carbon future. Today our school pledges to accelerate the transition to low-carbon energy while enhancing sustainable and resilient practices across our campus."
Signatories are from public and private universities in 40 states, including historically black colleges and universities, religious institutions, women's colleges, technical schools, community colleges and all Ivy League schools.
Half the schools plan to be carbon neutral within the next few decades and all have active climate programs on campus.
Academics Send Their Own Letter
2000 academics also sent an open letter that starts this way: "Some issues are of such ethical magnitude that being on the correct side of history becomes a signifier of moral character for generations to come…"
"Our leaders ought to be mustering planet-wide mobilization, at all societal levels, to limit global warming to no more than 1.5 degrees Celsius…"
"We undersigned concerned academics, researchers, and scientists from around the world recognize the seriousness of our environmental situation and the special responsibility we owe our communities, future generations, and our fellow species. We will strive to meet that responsibility in our educational and communicative endeavors. We call upon our leaders to do what is necessary to prevent catastrophic climate change. With just as much urgency, we call upon our fellow citizens to hold their leaders responsible for vigorously addressing global warming."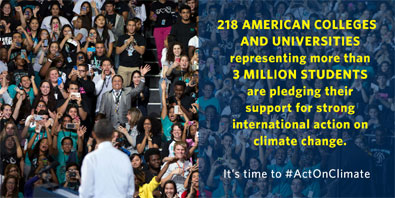 On the corporate side, 81 companies have signed Obama's American Businesses Act on Climate Pledge.
Over the past couple of months, just about every industry has chimed in to support a strong Paris agreement: foreign policy leaders took a full page ad, "US Security Demands Global Climate Action" and Europe's oil industry, and the world's airline, food, banking, and power industries all issued statements.
Islamic leaders also issued a strong Climate Declaration.
Read our article, International Momentum Builds For Price On Carbon, End to Fossil Subsidies
See the list of colleges that signed the pledge:
Website:
[sorry this link is no longer available]
(Visited 6,796 times, 8 visits today)