The FDA has approved the world's first GMO animal – GMO salmon – saying that it's no different from wild salmon.
That means when this first genetically engineered animal appears at your local supermarket a couple of years from now, you won't know because it won't be labeled.
And like all GMOs, the company that produces GMO salmon – AquaBounty – did the research to prove it is safe for people and the environment. The big selling point of this "new" Atlantic salmon is that it grows twice as fast as salmon in the wild – whoopee!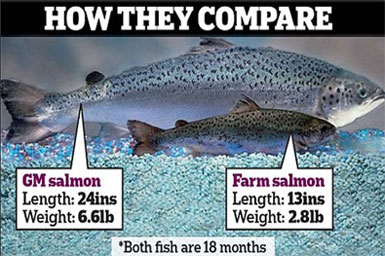 credit: Institute for Responsible Technology
The salmon is fiercely opposed by a raft of scientists, consumer and environmental groups, and even salmon farmers around the world. They argue research has been inadequate and that wild salmon populations could easily be affected if GMO salmon escape into rivers and oceans.
AquaBounty has already been fined in Panama, where it grows the fish, because they became diseased and escaped.
The Center for Food Safety immediately filed a lawsuit to
"stop the introduction of this dangerous contaminant. The fallout from this decision will have enormous impacts on the environment," says Executive Director Andrew Kimbrell.
Days before FDA's decision, environmental groups sued the Canadian government for allowing AquaBounty to "manufacture" the salmon eggs on Price Edward Island (where they can cross-breed with native fish) and ship them to labs in Panama, where they grow them to full size.
The government ignored its own scientists which showed that GMO salmon easily mate with brown trout – a closely related species common to areas surrounding both AquaBounty facilities – and wild salmon, threatening their already stressed populations.
Since 2013, about 2 million people have filed public comments with the FDA opposing GMO salmon – the most the agency has ever received on one issue, notes the Center for Food Safety.
"The review process by FDA was inadequate, failed to fully examine the likely impacts of the salmon's introduction, and lacked a comprehensive analysis. This decision sets a dangerous precedent, lowering the standards of safety in this country, says Andrew Kimbrell, Executive Director of Center for Food Safety.
60 supermarket chains, including Kroger, Safeway, Whole Foods and Trader Joe's, have said they will not carry the GMO fish, and after lots of pressure, Costco and Red Lobster also joined in.
FDA's decision is even more important because of the precedent it sets, clearing the way for at least 35 other species of GMO fish – and animals like cows, chickens and pigs – that are under development. In 2011, bipartisan legislation was introduced to prevent the Obama Administration from fast-tracking approval of GE salmon. It didn't get far.
(Visited 4,155 times, 103 visits today)