In April, we reported that 900 Dutch citizens sued the government to force stronger action on climate change … and they won!
This is the first time a court has legally required a country to take action on climate change.
Judges ordered the Dutch government to cut emissions by a minimum 25% below 1990 levels by 2020 – the low end of the 25-40% plaintiffs asked for, but WOW!
They ruled that planned cuts of 16% by 2020 are insufficient, given the emergency and the fact that the government has acknowledged this urgency.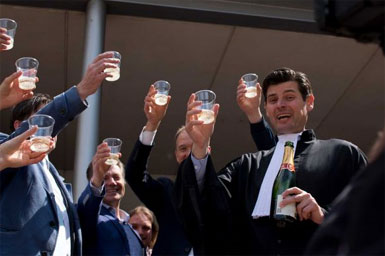 credit: Peter Dejong, AP
"All the plaintiffs are overjoyed by the result. This makes it crystal clear that climate change is a huge problem that needs to be dealt with much more effectively, and that states can no longer afford inaction. States are meant to protect their citizens, and if politicians will not do this of their own accord, then the courts are there to help," exclaims Marjan Minnesma, executive director of Urgenda, which initiated the case in 2013.
"This is a landmark ruling. Most remarkably, it is based in essence on established science and the ancient principle of a government's duty of care. That reasoning is applicable in any legal system and will certainly be used by courts in other countries," says James Thornton, CEO of Client Earth, an international group of environmental lawyers.
It will surely bolster another lawsuit underway against the Belgian government, supported by 8500 citizens, and Greenpeace is preparing a case in the Philippines, and in the US, children have filed legal actions in every state to declare the atmosphere is a "public trust" that deserves protection.
Jubilant campaigners put governments on notice as they prepare their climate pledges for December's Climate Summit – most of which are inadequate to address the problem.
Talk about setting a precedent: environmental lawyers have been preparing for court action around the world on climate change and they just got the landmark ruling that will now ripple across the world.
Last year, a letter sent to fossil fuel, mining, insurance and carbon-intensive manufacturers warned them the day is drawing near when they will be held responsible for crimes against nature and society by fueling climate change and misinforming the public on this emergency.
Read our article, Big Carbon & Big Tobacco, Same Path to Court.
The court ordered the government to pay Urgenda's legal costs.
The Netherlands lags the EU on renewable energy badly. It gets less than 5% of electricity from renewables in contrast to an average of 14% among member states. The government hasn't decided if it will appeal but claims it is on track to meet EU targets of 20% emission cuts by 2020.
The case coincides with the launch of the "Oslo Principles on Global Climate Change Obligations," developed by High Court judges, law professors and advocates from the Netherlands, US, Brazil, China, India and other countries. It says governments have a legal obligation to avert climate change under existing international human rights law, environmental law and tort law.
Read the Oslo Principles:
Website:
[sorry this link is no longer available]
(Visited 5,363 times, 3 visits today)