In 2011, SunPower was the first solar company to produce a Sustainability Report, and now it's the first to receive Cradle to Cradle certification.
75% of its solar panel designs are now certified, based on these criteria:
Use of environmentally safe, healthy materials
Materials are designed for recycling or composting at end of life
Manufacturing must make use of renewable energy and carbon management
Water stewardship
Social fairness
This means that SunPower thinks through every phase of making solar panels, from choosing the healthiest materials to using the most efficient manufacturing process, to recycling the panels back into new ones at the end of their life.
SunPower's panels earned the Silver level (Like LEED, there are five levels of certification: Basic, Bronze, Silver, Gold, and Platinum) and are manufactured at its largest plant – in Mexico – and in France. Its panels are the most efficient on the market at 21.5% and are known for their durability, reliability and high quality.
"We are committed to making all of our solar panels more sustainable, in line with our dedicated focus to supporting the transition towards a circular economy that is restorative and regenerative by design," says Marty Neese, COO of SunPower.
"Environmental and social sustainability are at the core of SunPower's business, affecting every design, manufacturing and sourcing decision the company makes," notes Bridgett Luther, president of Cradle to Cradle Products Innovation Institute.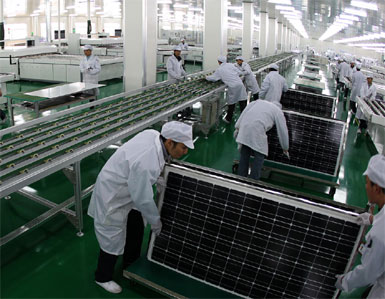 Cradle to Cradle (C2C)
Green architect Bill McDonough and chemist Michael Braungart created the certification in 2005 to reward a lifecycle approach to product development. The goal is "waste equals food," where healthy materials are the inputs for products so they can be re-used endlessly, eliminating the concept of waste.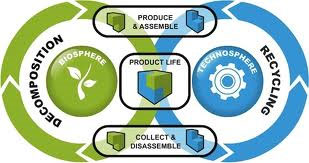 Now included in LEED certification for buildings, cradle to cradle solar panels qualify for 14 points, because they also reduce construction waste – an important part of green building. In contrast, conventional solar systems receive only 5 points toward the 40 points required for Basic LEED Certification.
McDonough incorporated "waste into food" concepts into building design before LEED existed, such as Oberlin College's Adam Joseph Lewis Center – a building that harvests more energy than it uses, cleanses its own water, and even produces food.
The essence of Cradle to Cradle is that if closed loop manufacturing is used to conceive and make products, that humans can live in a world of abundance.
SunPower's Process
Challenges for the solar industry are materials used and hazardous waste.
SunPower avoids toxic materials, such as cadmium, and stays clear of "conflict minerals," such as gold and tungsten.
Unlike most solar manufacturers, SunPower's Mexicali, Mexico plant sends zero waste to landfills; runs on 44% renewable energy and cut water use 50%. All its facilities will achieve these results this year, reports The Guardian.
Inert fluorides left over from solar cell manufacturing are turned into sludge cakes that can be used by cement manufacturers, and, as many solar companies do, SunPower takes back outdated solar panels and recycles them into new ones.
Read our article, Hazardous Waste Weighs on Solar Industry's Footprint.
Because SunPower's panels are so efficient and durable, fewer are needed for to achieve the desired output, and have a lifetime of 40 years.
Read our articles, Trina, SunPower Rank Highest on Environmental Stewardship Among Solar Companies; Using Recycled Water, Recycled Panels Among Best Practices of Solar Companies; and Solar Industry Launches Wider Commitment to Environmental, Social Responsibility.
Learn about the Circular Economy 100, a global platform that brings companies together to accelerate the transition to a circular economy:
Website:
[sorry this link is no longer available]
(Visited 4,293 times, 96 visits today)