Seattle has settled on Smart Buildings as part of their next stage of economic growth.
"By developing this technology here, we can help make Seattle a global leader in clean energy innovation. That's something we can export around the world," said former Mayor Mike McGinn.
The business plan centers around a Smart Buildings Center – a hub for collaboration on these technologies – and a degree program that trains professionals in the field at South Seattle College – a BA in Sustainable Building Science Technology that begins this year.
Graduates could earn $80,000 a year developing and maintaining the complex computers, engineering systems, and sensors that now run modern, green buildings, Victoria Hardy, the lead faculty member, told National Journal.
It began in 2013 with Seattle's High-Performance Buildings Pilot Project. The Seattle 2030 District – a collaborative of downtown building owners and managers – who want to reduce energy use 50% by 2030, used smart building software from Microsoft and Accenture to see how real-time big data could impact energy use. Could it significantly cut energy consumption without the need for costly retrofits that disrupt tenants?
Microsoft's building sensors: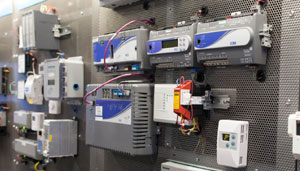 An average of 30% of energy in buildings is wasted, according to the Department of Energy, and there are 4.2 million commercial buildings in the US.
Using the data, managers could adjust lighting, temperature, and even the position of window shades in each room to maximize energy efficiency. They could see where energy was being wasted, minute-to-minute throughout the day. It also indicates when there are potential problems with heating and cooling equipment.
No more visiting buildings to do tune-ups, now everything is data driven and problems are fixed instantly and remotely. With a few clicks of a mouse engineers can often fix a stuck damper or leaky valve – even the smallest issues get detected.
"One of the most appealing aspects is the predictability that smart building systems provide," says Rodney Schauf, director of engineering at Sheraton Hotel Seattle, which participated in the pilot. "The predictive power of this tool maintains comfort and reliability, which are just as important as energy savings for many building owners."
In the first six months, Sheraton used 5.5% less energy and University of Washington's School of Medicine used 9% less. Boeing and Seattle's Municipal Tower also participated.
NYC also wants to be a global leader in deploying smart building technologies.
Read our article, Smart Building Software Helps Schools Counteract Budget Cuts.
Here's the Smart Building Center website:
(Visited 3,271 times, 42 visits today)