Boston continues to lead US cities on energy efficiency, receiving 82 out of 100 points, according to the City Energy Efficiency Scorecard, released today by the American Council for an Energy-Efficient Economy (ACEEE).
The other top cities are (in this order):
New York City
Washington DC
San Francisco
Seattle
Chicago
Minneapolis
Portland, OR
Austin, TX
Denver
9 of them got higher scores from 2013, many making double-digit improvements, says ACEEE. Los Angeles, for example, announced its Sustainable City pLAn, with strong goals for efficiency. All still have lots of room for greater efficiency – out of the 51 large cities ranked, only 13 earned more than 50 points.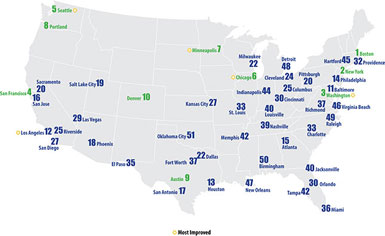 Areas where they lead:
Government operations: Denver, NYC and Phoenix lead on policies that increase efficiency in city government, procurement, and asset management.
Community initiatives: Boston and NYC have systems in place that track progress toward city-wide efficiency goals. They have policies that support the growth of district energy and combined heat and power, and strategies to reduce urban heat islands.
Buildings: Boston, NYC and Washington DC have adopted stringent building energy codes with resources for enforcement and require energy benchmarking.
Utilities: In Boston, San Francisco, Portland, Minneapolis, and Chicago, utilities offer strong efficiency programs to customers. Boston, San Francisco, Seattle, NYC, Los Angeles, Austin, Atlanta, Fort Worth, and El Paso lead on water efficiency.
Transportation: Boston, Portland, Washington, and Seattle lead on initiatives to make transportation more efficient, such as investing in mass transit, electric vehicle infrastructure, and freight transport.
Many of the top cities helped launch the worldwide Carbon Neutral Cities Alliance in April and participate in the City Energy Project to significantly increase building energy efficiency.
Energy efficiency efforts in New England since 2000 resulted in 14% lower energy demand during this very cold winter. Without those investments, wholesale energy prices would have been 24% higher, and customers would have spent $1.5 billion more, reports the Acadia Center.
Green Leases Would Help
Green leases can "open the floodgates for energy efficiency solutions in America's largest energy users -buildings," by aligning incentives for landlords and tenants to be more efficient.
It could cut energy consumption up to 22% in office buildings, saving $3.3 billion a year, concludes a study by the Institute for Market Transformation, What's in a Green Lease? Measuring the Potential Impact of Green Leases in the U.S. Office Sector.
They say: "Traditional leases typically discourage landlords and tenants from investing in building improvements by separating costs in a way that creates a "split incentive" – a problem that's frequently cited by property owners as the number one roadblock to energy efficiency projects. This problem occurs most frequently in leases where tenants pay for energy use but the landlord is wholly responsible for capital improvements. In these cases, landlords have little incentive to improve a building's energy efficiency while tenants bear the brunt of poor-performing systems."
Green leases address this split incentive by linking financial incentives with actions to improve building performance. While the study looks solely at leased office buildings it also applies to retail and other uses.
Landlords, for example, can include language in a lease that allows them to recoup all savings that result from efficiency enhancements. They can install meters that provide feedback on energy use and bill tenants based on their use, and they can require tenants to meet basic guidelines, such as installing only Energy Star-rated appliances.
Visit greeneleaseleaders.com to learn more.
Here is ACEEE's City Energy Efficiency Scorecard:
(Visited 3,073 times, 9 visits today)