For the fourth consecutive year, Washington DC ranks #1 for most green roofs installed, according to the Annual Green Roof Industry Survey.
Top 10 Cities for Green Roofs in North America in 2014 – amount of square feet added (rounded off)
Washington DC: 1.2 million
Toronto: 775,200
Philadelphia: 600,000
Chicago: 400,000
New York City: 380,000
Denver: 375,000
Baltimore: 200,000
Montreal: 190,000
Seattle: 100,000
Boston: 60,000
Seven of the top cities have supportive policies and programs that encourage green roofs. Besides increasing a building's energy efficiency, they mitigate storm water run-off, improve air quality, moderate the urban heat island effect, and can be used as public spaces. They can also provide pollinator and bird habitat depending on what's planted.
Washington DC offers rebates of $7-$15 per square foot and gives credits that reduce storm water fees. Toronto's Green Roof by-law of 2009 requires green roofs on most new buildings, resulting in over 2 million square feet of green roofs.
At 55,000 square feet, Higher Ground Farm is the second largest rooftop farm in the US. Topping the Boston Design Center, it will keep the building cool in the summer and warmer in the winter, triple the life of the roof, and reduce air pollution – besides providing local, fresh food: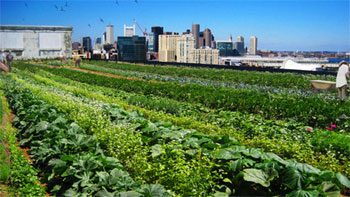 The farm is the result of Boston's ordinance that allows farmers to create urban farms within city limits.
After double-digit growth for the past decade, green roof additions dropped 12% in 2014, mostly because federal incentives ended.
Overall, corporate members of GRHC recorded 5,537,240 square feet of green roofs installed on 887 projects in 2014, compared to 6,421,537 square feet installed on 950 projects in 2013. For the first time, the private sector installed more green roof footage than the public sector.
On June 1st in Toronto, GRHC hosts Grey to Green: A Conference on Urban Agriculture and Resilience.
Its annual conference, CitiesAlive, takes place in Brooklyn, NY, October 5-8.
Read our article, Ford Motor's 10-Acre Green Roof Launched an Industry.
Here's the report:
(Visited 3,343 times, 38 visits today)