Stanford University announced a massive upgrade to its energy system that makes it a world leader among universities, while saving $420 million on energy costs over the next 35 years.
There are two components – an extremely efficient combined heat and power system (CHP) and lots of solar energy.
SunPower is installing 5 megawatts (MW) of rooftop solar on campus and a 68 MW project on 300 acres of land – a commitment only exceeded by University of California. Combined with purchases of renewable energy from the grid, the projects will generate 65% of Stanford's electricity.
On the efficiency side, Stanford will cut emissions 68% and conserve 15% of potable water through its CHP plant, Stanford Energy Systems Innovations (SESI). An amazing 90% of campus heat will be supplied by recovering waste heat from the system that chills water on campus.
22 miles of underground pipes had to be replaced and 155 buildings were retrofitted to convert from the old steam cogeneration system that ran on natural gas. Stanford essentially created a District Energy system, common in Europe, but rare in North America.
Construction started in 2012 and the $438 million project began operating in March.
Stanford patented the software that optimizes the system. It continuously monitors plant equipment, predicts campus energy loads and grid electricity prices, and steers the system to using energy at the most economical times. It also continuously reviews its own performance.
The control room: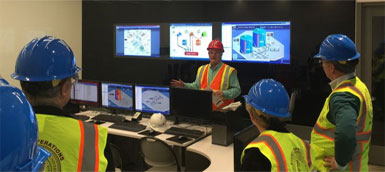 Stanford says:
"SESI is designed to take advantage of Northern California's temperate climate, although the system is adaptable to nearly any environment. As with most modern large commercial facilities, university buildings are being cooled and heated at the same time throughout the year to supply different room-temperature requirements.
"In other words, the cooling process can be seen as a collection of unwanted heat. Some modern facilities take advantage of this heat overlap on a stand-alone building basis. SESI, however, takes this approach to an entirely new scale, encompassing a 15-million-square-foot campus with a population of more than 30,000.
"By significantly reducing natural gas usage and electrifying the campus heating and cooling system, we enabled the university's energy supply to be substantially transitioned from fossil fuels with volatile and unpredictable long-term prices to clean renewable electricity sources with affordable costs fixed for a very long time," says Joseph Stagner, executive director of Sustainability and Energy Management at Stanford.
Under Stanford's ongoing Energy and Climate Action Plan, new buildings must be 30% more efficient than state code – which already leads the nation. Existing buildings are getting major retrofits and campus programs teach students, faculty and staff how to cut back on their energy use.
Last year, Stanford announced it would divest from coal, the first major university to do so.
For another innovative use of waste heat, read our article, London Homes Heated By Subway Waste Heat.
Learn more about Stanford's system:
(Visited 3,805 times, 24 visits today)