Today is a watershed day for people who want GMO foods to be labeled.
Last year, Vermont became the first state to require GMO labels and predictably, special interests challenged it in court. And they lost!
Judge Christina Reiss of the US District Court ruled against the Grocery Manufacturers Association (the trade association for Big Food companies) and the International Dairy Foods Association in their effort to block implementation of Vermont's law.
"This landmark ruling not only paves the way for Vermont's GMO labeling law to take effect on schedule, July 1, 2016, but more importantly it signals that the courts agree that states have a constitutional right to pass GMO labeling laws," proclaims Ronnie Cummins, Executive Director of the Organic Consumers Association.
You can be sure, however, that the legal battle isn't over.
And it continues on the national level, with Rep. Mike Pompeo's (R-KS) DARK Act reintroduced last month. It would allow foods that contain GMOs to be labeled "natural" and prohibit states from requiring labels.
On the other side of the aisle is a bill that would mandate GMOs labels – Genetically Engineered Food Right to Know Act – re-introduced by Rep. Peter DeFazio (D-OR) and Senators Barbara Boxer (D-CA) and Richard Blumenthal (D-CT). The bill was first introduced back in 1999 by former Rep. Dennis Kucinich (D-OH).
As a reminder, GMO labels are mandatory in 64 countries including Japan, China, Russia, Australia and the European Union.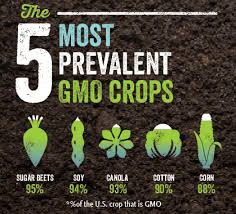 Neil Young Says, Thanks Vermont!
After speaking out against Canada's tar sands oil, rock star Neil Young's next target is Monsanto.
He will be touring with Willie Nelson's sons to promote their upcoming album, The Monsanto Years. The tour runs from July 5-24, with a show in Vermont. The album debuts July 16.
Song titles include "Monsanto Years," "Rock Starbucks," "Seeds" and "Too Big to Fail."
Chipotle Gets Closer to GMO-Free
The environmentally responsible fast food chain has been disclosing foods that contain GMOs as it works to eliminate them, and now they have – no more GMO corn or soy oil.
They haven't yet converted completely to free range meat and dairy, however, so there could still be GMOs in the feed for those poor animals that "lived" in factory farms.
But they are aggressively moving toward 100% free range, says Chipotle. In a recent earnings call with investors, CEO Steve Ells said, "Customers are applauding our commitment to our vision, thanking us for standing on principal, commending us for taking action against the inhumane treatment of animals and congratulating us for standing by our business values."
Chipotle has grown to 1831 restaurants since 1993 in the US, Canada and Europe.
Glyphosate A Probable Carcinogen
Meanwhile, the World Health Organization released research designating glyphosate – the main ingredient in Monsanto's Roundup, the most widely used herbicide in the world – as a "probable carcinogenic to humans."
And the Environmental Working Group (EWG) is debunking the GMO industry's biggest argument in Feeding the World Without GMOs, that these crops are the only way we can hope to feed an ever-growing human population. Superweeds have spread to more than 60 million acres in the US, they say.
Sadly, after only approving a handful of GMO crops all these years, the European Union has approved imports of 10 more GMOs including corn, soybeans, cotton, canola and carnations. Monsanto makes most of them.
And this is after a majority of EU member states voted against authorizing most of them. Each state will be able to restrict or ban the use of specific GMOs, but amazingly, they can't use health and environmental reasons as justification, only socio-economic impact or public interest.
The US has long been pushing Europe to accept GMOs and this is a foreshadowing of what we will see in the US-EU trade deal, the Transatlantic Trade and Investment Partnership (TTIP).
Read our articles, US Government is Monsanto's Sales Rep and 8 Ways Monsanto Undermines Sustainable Agriculture.
(Visited 5,848 times, 20 visits today)