Let's celebrate!
Construction of the first offshore wind farm in the US has finally begun off the Rhode Island coast.
Seven years after first proposing the wind farm, Deepwater Wind is starting to build Block Island Wind Farm. Five wind turbines will generate 30 megawatts of power three miles from Block Island. The demonstration project is small, but the next one is 1 gigawatt!
Turbines should start spinning in the latter half of 2016 and National Grid will buy the output.
At the celebration, which took place at Specialty Diving Services – a local company that's fabricating steel foundations for the wind turbines – Governor Raimondo, the state's congressional delegation and labor leaders expressed their hope that this is the beginning of a new US manufacturing industry. In Europe, 60,000 people work on offshore wind.
"Because we don't do a lot of heavy industry in Rhode Island anymore, it's been really important to take good Rhode Island companies like Specialty Diving Services and partner them with global world-class companies, which is what we're doing, because we need to learn how to do this in the US. "It's going to take time, but starting with small projects like Block Island is critically important," Deepwater CEO Jeff Grybowski told Providence Journal.
Even this first, small project will create 330 jobs, installing turbine foundations, laying the underwater power cable and overseeing the project.
Huge Project is Next
While Block Island is in state waters, Deepwater Wind also won the first US auction in federal waters, 17 miles south of Rhode Island.
There, the company will built the Deepwater Wind Energy Center, a 1 gigawatt wind farm with 200 turbines. A regional transmission system will bring electricity to 350,000 homes and businesses in New York state and southeastern New England.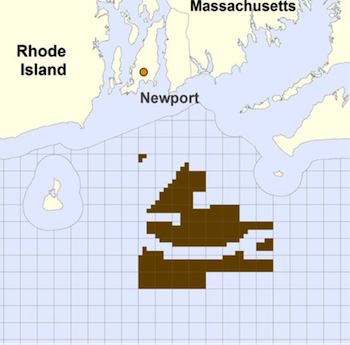 "This is the best site for offshore wind in the United States, bar none," says Deepwater Wind CEO Jeffrey Grybowski.
Construction of the $5 billion project could begin in 2017, with power production in early 2018. And Deepwater expects the price for electricity to be competitive with fossil fuels.
(Visited 4,060 times, 15 visits today)