The Obama administration is focused on scaling renewable energy right now, calling on impact investors to put $2 billion into promising technologies, and also launching a national incubator network as a pipeline for those funds.
Funded with $3 million from DOE, the Clean Energy Incubator Network will provide nationwide coordination among clean energy business incubators. The goal is to identify and implement best practices that give early-stage companies the best chance for success.
Acting as a hub, the network will bring startups and industry together, help incubators learn from each other, and advance technologies emerging from universities and federal labs.
DOE's National Renewable Energy Lab and the Electric Power Research Institute (EPRI) are administering the program. This week's ARPA-E Energy Innovation Summit is the first event and the Clean Energy Investment Summit planned for this spring will bring the marketplace together: start-ups, incubators, clean energy investors, and industry participants.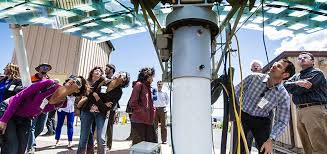 Their blog says:
"If you are an energy entrepreneur, this network is designed to provide you with a collection of the top resources you need to launch your company or commercialize your technology, including information about leading incubators, funding opportunities, testing facilities, mentors, and more.
For incubators, investors, and other industry stakeholders, this network is designed to create stronger connections between leading innovators, allowing you to learn from each other and interact with your peers."
Founding member incubators: Austin Technology Incubator, Clean Energy Trust (Chicago), NextEnergy (Detroit) and LA Cleantech Incubator.
A variety of in-person and virtual events will foster sharing best practices both on incubation techniques and clean energy technologies. A SmartIncubationTM program will publish the results of these analyses every six months, identifying and recommending best practices and strategies.
"Start-ups in the energy industry, unlike other industries, typically require more capital, longer timelines, and intense networking to commercialize workable technologies," says Beth Hartman, EPRI's project manager for the network. "This community will provide a smart focus on early stage clean tech incubation to meet strategic needs in the energy industry. In the end, our collaboration will support new technologies in energy that add diversity to our energy mix, reduce pollutants and create a more flexible power system for our nation."
In 2007, DOE launched a solar incubator program as part of its SunShot Initiative. It has since invested some $92 million in 54 solar start-ups. The funding has inspired almost $1.7 billion in private investment – or roughly $20 in private sector money for every $1 of federal support, says DOE.
There are 12 clean energy incubators in New England alone, and NYC has one more generally focused on clean technologies. San Francisco's "CleantechSF" nutures start-ups. IN2 and Lab-Corps are also run by DOE.
Read our article, Cleantech Incubators Join Forces Across the Atlantic.
Here's the website:
(Visited 4,292 times, 51 visits today)