When Apple unveiled a spaceship design for its new Cupertino, California headquarters, it said the entire building would run on solar.
Now it is following through, signing a 25-year agreement with First Solar to buy half the output of California Flats Solar Project in Monterey County.
First Solar expects to finish the 280 megawatt (MW) project next year, coinciding with the opening of Apple's new headquarters.
The $848 million solar energy purchase will power all Apple's California operations, including Apple stores and a data center.
"Apple is leading the way in addressing climate change by showing how large companies can serve their operations with 100% renewable energy," says Joe Kishkill, Chief Commercial Officer for First Solar. Indeed, all Apple's data centers are running on renewable energy.
California Flats will be built on 2,900 acres, taking up 3% of property owned by the Hearst Corporation. Pacific Gas & Electric is buying the rest of the electricity.
First Solar (Nasdaq: FSLR), which has built many of the largest solar projects in the US, is now focused on selling energy directly to big commercial and industrial customers. The deal with Apple is its first wholesale power purchase agreement.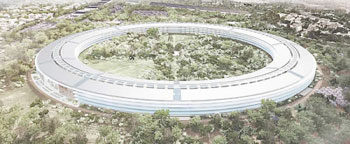 But that's not all! Apple is investing $2 billion for a "Command Center" in Arizona – an enormous data center that will control its network of data centers around the world. It is converting a factory that it planned to lease to GT Advanced Technologies, but the company is now bankrupt.
It too will be completely powered by clean energy, including 70 MW from a local solar project developed with local utility Salt River Project.
And so will new data centers planned in Ireland and Denmark. Apple says it will work with partners to provide €1.7 billion worth of renewable energy projects there.
"We know at Apple that climate change is real. The time for talk is past. The time for action is now," said CEO Tim Cook at this week's Goldman Sachs Technology and Internet Conference.
"It's one thing to talk about being 100% renewably powered, but it's quite another thing to make good on that commitment with the incredible speed and integrity that Apple has shown in the past two years," says Gary Cook, Senior IT Analyst for Greenpeace, which ranks the industry each year. "Apple still has work to do to reduce its environmental footprint, but other Fortune 500 CEOs would be well served to make a study of Tim Cook, whose actions show that he intends to take Apple full-speed ahead toward renewable energy with the urgency that our climate crisis demands."
Last year, after being criticized for designing products in the US but making them in China, Apple promised to begin moving manufacturing jobs back to the US.
This all comes as Apple's market capitalization hit $710 billion, the first American company to reach such heights.
Read our article, Apple CEO Stands Up to Climate Deniers.
(Visited 4,639 times, 21 visits today)