Better information can mean more effective intervention when
it comes to carbon emissions.
Enter Orbiting Carbon Observatory-2 (OCO-2), a satellite
launched by NASA this month that will gather a million high-resolution carbon measurements across the world … every day. About 10% of that will be useful because of cloud cover.
It is one of five Earth-observing satellites launched in 2014 in NASA's "year of the Earth." Each has a different focus on our planet's vital signs: while OCO-2 hones in on carbon emissions, the others observe ocean winds, global rainfall and snow patterns, soil conditions and aerosols in the atmosphere.
There's even a satellite tracking the state of the world's forests.
OCO-2 is the first satellite able to make precise, global measurements of the amount of carbon dioxide in the atmosphere, with a goal of advancing scientists' understanding of carbon's role in climate change and how emissions cycle through Earth's oceans, land and atmosphere.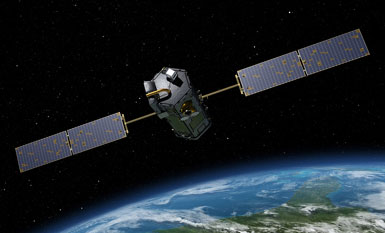 "Our goal is to analyze the sources and sinks of carbon dioxide and to find better ways to manage it," says Gregg Marland, a geology professor at Appalachian State University who is participating in the project.
Combined with ground-based sensors, the satellite will gather the most precise emissions measurements to date and no one will be able to hide – NASA will be able to see exactly where the worst emissions are coming from.
Accurate Tracking for Country Climate Targets
This information can be used for many purposes, such as accurately tracking how a country is doing in reaching climate targets (which will hopefully be established next year). It can even observe an individual factory's pollution.
For example, right now China's emissions are an open question because national and provincial governments come up with widely different measurements, Manvendra Dubey, a climate scientist at Los Alamos National Lab, told Climate Central.
On the facility level, OCO-2 can see Four Corners Generating Station and the extent of its pollution – two enormous coal power plants in New Mexico that are pumping out 30 megatons of carbon a year – the biggest polluters in North and South America.
Pinpointing Carbon Sinks & Key Changes
On the other side of the coin, the climate change observatory will also pinpoint carbon sinks – where carbon is best being absorbed from the atmosphere – with the goal of protecting those places.
Until now, satellites have been of limited usefulness because of their limited coverage area and low resolution. Using remote sensing from space-based platforms is making the difference, Dubey told Climate Central.
Read our article, NASA Launches 5 Missions to Study Earth's Vital Signs.
Here's a quick take on other Earth Observation space stations:
(Visited 17,151 times, 4 visits today)