by Dawn Johnston
It's only a matter of time before climate change becomes a major theme in movies and books given all the drama that comes naturally with sea level rise, droughts, wildfires and a post-climate change world.
There's already a name for the climate fiction genre, "Cli-Fi".
Opening in early August, "Into the Storm" is a Cli-Fi film about a small, rural town ravaged by unprecedented tornadoes.
Here are a few Cli-Fi novels on Daily Climate's annual summer reading list:
Memory of Water by Emmi Itaranta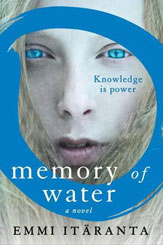 Dan Bloom, who blogs about Cli-Fi, calls this his top pick for 2014.
Translated from Finnish and set in Scandinavia, the novel takes place after China conquers Europe in a battle over water. The story is about a teenager's quest to become like her father, who has prized skills of finding secret sources of water … and what she does with that knowledge.
When Noria's father dies, she takes his place, but as her village's water resources dry up, she finds herself pressed to resist the new government for the greater good. Increasing scrutiny of the village and Noria lead her to choose between her old life and an uncertain future.
This award-winning novel is touted as an easy-to-read coming of age story amidst political oppression, set in a dystopian landscape.
Instructions for a Heatwave by Maggie O'Farrell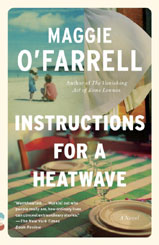 Set in
England's heat wave of 1976, the story begins with the curious disappearance of retired Robert Riordan who steps out to get a newspaper and never returns. As
his wife struggles to find answers, his three adult children return home to
help with the search and unearth old hurts and struggles in the process.
Described as a fascinating character study, we learn that each family member nurses intriguing secrets and challenges.
Looking for an iconic author? Try this.
To a God Unknown by John Steinbeck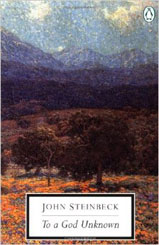 This novel follows the successful California
farming venture of Joseph Wayne who believes his father's spirit resides in a
magnificent tree on the farm.
The story explores Joseph's mystical relationship
to the earth and how fate can be tragically tied to beliefs. The family prospers, but when Joseph's "pagan"
belief about the tree frightens his brother, the tree is killed. Drought and
disease follow and Joseph vainly tries to recreate his former prosperity and to
understand the ways of God and nature.
Not a Drop to Drink by Mindy McGinnis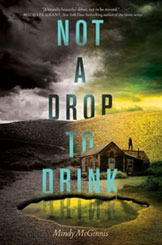 Listed as a book also for youth, this widely read favorite is another dystopian novel of survival in time when water is scarce.
16-year-old Lynn and her mother are hell-bent on protecting their farm and precious pond, and have no qualms about shooting water thieves. A severe water shortage has made their day-to-day existence a constant battle to fend off intruders while they tend
the farm, but when Lynn allows some newcomers into her life, her black and white view of the world is challenged and changed.
It's described as a quick read, with gripping excitement.
In the mood for more? Find other ideas here and here:
(Visited 3,462 times, 3 visits today)