The Democratic Republic of the Congo is embarking on a "massive green development program" that will protect its forests through the sale of carbon credits.
In the largest pay-for-performance initiative in Africa, the country will receive payments when it significantly reduces deforestation.
The United Nation's REDD (Reducing Emissions from Deforestation and Degradation) mechanism will be used to protect nine million hectares of primary tropical forest – about the size of England. About 1.8 million people live there along with endangered animals such as forest elephants. It is the only home for bonobos – the great ape that is the closest relative to humans.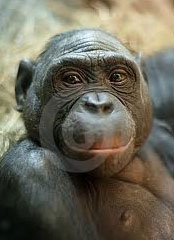 "We hope this pioneering climate change mitigation program can become a model for the Congo Basin Forest Nations of Africa and perhaps for forest nations throughout the developing world," says Minister N'sa Mputu Elima. "We believe this program can demonstrate the transformational power of REDD+ to conserve forests for future generations while providing unprecedented green development for our citizens."
"The Democratic Republic of the Congo accepts its responsibility to protect its forests for the benefit of humanity, but as a developing country we require a partnership with industrialized nations to provide the financial support needed by the program."
Advisors to the project include the World Wildlife Fund, Wildlife Works (which protects forests using emissions credits) and a broad array of civil groups. "The government has carefully assembled the right mix of technical and community development expertise to build this program in an inclusive and sustainable way," says Mike Korchinsky, Founder and President of Wildlife Works.
Indonesia launched the same program in 2012, starting with the 200,000 acre Rimba Raya Biodiversity Reserve, which is threatened by clearcutting for palm plantations. It is the world's largest initiative to protect lowland peat swamp forests, one of the most endangered ecosystems in the world.
In REDD projects, the amount of emissions prevented by leaving forests intact is measured by the Verified Carbon Standard.
Started this year, Global Forest Watch shows what's happening in forests around the world in near-real time, giving investors in carbon credits the confidence they need that they are having an impact on the ground.
(Visited 4,748 times, 32 visits today)