As Santa Cruz celebrates its unanimous decision to ban fracking(and all oil/ gas development) – the first county in California to do so – there's even better news.
The US Energy Information Administration (EIA) corrected its wildly inaccurate assessment of how much gas is recoverable from California's Monterey shale formation. They lowered their projections by 96%! Instead of 13.7 billion barrels of gas available through fracking, there's just 600 million barrels.
But the oil industry isn't deterred – they vow to experiment with risky new ways to frack. Efforts by state lawmakers to impose a moratorium are gaining strength, favored by two thirds of voters.
How could they make such a big mistake?

"The oil has always been a statistical fantasy," says geoscientist David Hughes, author of Drilling California: A Reality Check on the Monterey Shale. "Left out of all the hoopla is the fact that EIA's estimate was little more than a back-of-the-envelope calculation."

After analyzing actual oil production data from Monterey Shale and the formation's geological characteristics, he concluded that EIA's estimates were wildly over-optimistic. INTEK, Inc., the source of the EIA's original estimate, has since admitted that its figures came from technical reports and presentations from oil companies rather than hard data.
It's long been questioned whether Monterey Shale's disjointed land – twisted and turned from earthquakes – would be too difficult to make widespread drilling economical. It's an obvious hot spot for earthquakes, which are triggered by fracking.
The 1750 mile-long Monterey Shale formation contains about two-thirds of US shale reserves.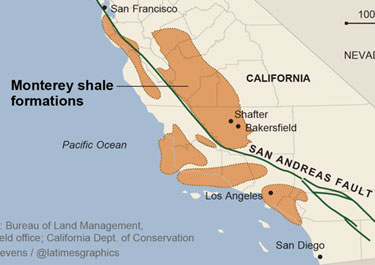 Fracking During the Historic Drought
Meanwhile, the calls to ban fracking in California have grown louder in the face of the excruciating drought and now wildfires.
Over 100,000 comments have been filed against Governor Brown's decision to massively expand fracking which, besides all the other problems, consumes huge amounts of water- potentially contaminating what's left of drinking water.
In addition to California's fracking regulations, as of March 1, the EPA requires fracking companies to disclose the chemicals they discharge into the ocean when they drill off the coast.
There too, there's been limited success in that part of Monterey Shale. Venoco pulled out of the area, saying the results weren't worth the effort.
"The EPA's rule will provide some information about the toxic fracking chemicals dumped into our ocean, but it relies on oil companies to be honest and transparent in their self-reporting," says Miyoko Sakashita, senior attorney at the Center for Biological Diversity.
EPA is currently accepting comments on national regulations that would "enhance transparency on chemicals used in hydraulic fracturing." 20 states now require companies to disclose the chemicals they use.
But in North Carolina, Republicans are experimenting with how far they can go in the other direction. A bill just passed behind closed doors – pushed through in 10 days without public knowledge or input – slaps a fine and jail sentence on anyone who discloses fracking chemicals. Until now, there was a moratorium on fracking, but with the passage of the bill that ends.
Why Chemical Disclosure Is So Important
In a landmark case in Texas, a jury awarded a family $3 million because nearby fracking operations made them ill. It took them awhile to make the connection with the onset of symptoms like chronic nose bleeds, irregular heartbeat, muscle spasms, and open sores.
"A lot of the earlier tort cases [against fracking companies] were dismissed because the industry was so successful at withholding information that people couldn't draw connections between the problems and what industry was doing," Deborah Goldberg, managing attorney with Earthjustice, told ThinkProgress. "Now studies are starting to be done, and people are beginning to realize they can document what the impacts are going to be."
Another problem that's emerging is illegal dumping of the toxic stew of chemicals radioactive waste from fracking. Thousands of tons of low-level radioactive waste has been found across hundreds of sites in the US. It can end up in roadside ditches, garbage dumpsters or in abandoned buildings, as North Dakota discovered this year.
In that state's Bakken oilfields, "it's a wink-and-a-nod situation," Darrell Dorgan from the North Dakota Energy Industry Waste Coalition, told Bloomberg. "There's hundreds of thousands of square miles in northwestern North Dakota and a lot of it is isolated. Nobody's looking at where all of it is going." The group is trying to get strict rules adopted for handling waste, but with skyrocketing amounts of fracking waste, landfills are overloaded.
In California, a gas company was recently fined $60,000 after being caught on camera illegally dumping toxic discharge. Read the full story:
Website:
[sorry this link is no longer available]
(Visited 4,336 times, 6 visits today)