A billionaire in China plans to give Elon Musk a run for his money as he revives Fisker Automotive to compete with Tesla.
Fisker is one of several electric car companies and battery-makers that went bankrupt but is finding new life through Chinese owners.
Wanxiang Group bought Fisker this year for $149.2 million. They will re-start production of the luxury plug-in hybrid Fisker Karma in the US as well as other advanced vehicles. They also bought most of the assets of its battery-maker, A123, which also went bankrupt.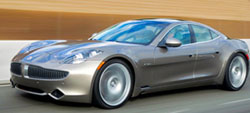 "I'll put every cent that Wanxiang earns into making electric vehicles. I'll burn as much cash as it takes to succeed, or until Wanxiang goes bust," Chairman Lu Guanqiu told Bloomberg. "The road is still very long. We want to concentrate for now on manufacturing in the U.S. If I don't succeed, my son will continue with it. If he doesn't make it, my grandson will."
He's got a shot because along with patents, the Fisker sale includes an abandoned GM plant in Delaware. Having a production plant gives him a leg up over other carmakers from China that want to sell cars in the US, such as BYD Co.
Wanxiang started by making car parts, but is now a conglomerate with $1.3 billion in profits last year. Its other publicly traded units make seed and fertilizer, beverages and develop real estate.
It's always been Lu's dream to manufacture cars. He's been making electric buses in China, 700 of which are being tested in cities there. He chose to make electric vehicles because there's too much competition for conventional cars.
As for Tesla, besides getting ready to build a Gigafactory, it delivered its first cars to Chinese buyers last month and is creating a charging network there. Musk says manufacturing will begin in China in the next few years.
Read our article, Norwegians Snapping Up Electric Cars.
(Visited 3,964 times, 33 visits today)