One of the important, positive trends we're seeing is growing food closer to home and in cities that often means rooftop farms.
In Japan, a leading railroad, East Japan Railway, is turning the roofs of train stations across the country – starting with five in Tokyo – into urban farms. Commuters can weed while they wait for the train or pick some vegies on their way home. And when they rent a space, they are provided with everything they need – tools, water, and even seeds. They even have professional staff who will help you learn how to garden. Anyone can rent a space, but depending on its size and location, it can be pricey – as much as $960 a year.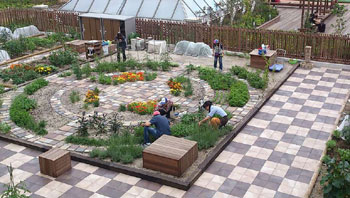 UN Calls for Overhaul of World's Food System
This is probably one of the things the UN Special Rapporteur on the Right to Food has in mind in his provocative report that calls for a complete overhaul of the world's food system, starting with the move to local, sustainable farming.
After six years of visiting more than a dozen countries, Olivier De Schutter says that democracy and diversity is the key to eradicating hunger and malnutrition. It is achievable, but the current system works only to maximize profits for big agribusinesses.
Currently the "one-dimensional quest to produce more food" crowds out systems that would support small farmers that produce culturally diverse foods that sustain the soil and water and provide food security, especially to people in vulnerable areas.
It might be built from the bottom-up, based on meeting the ability of the smallholder's ability to thrive, he says. That means working at the level of villages, regions, cities, and municipalities.
He urges cities to take food security into their own hands because by 2050 more than 6 billion people will live in cities. Cities must identify and overcome logistical challenges in their food supply chains." These efforts, however, have to be supported by national and international policies. The World Trade Organization, for example, must not get in the way, for example.
"Wealthy countries must move away from export-driven agricultural policies and leave space instead for small-scale farmers in developing countries to supply local markets," he says. "They must also restrain their expanding claims on global farmland by reining in the demand for animal feed and agrofuels, and by reducing food waste."
This is one more reason why NAFTA and the trade pacts under negotiation are taking the world in the wrong direction.
Read our article, How Community Fisheries Save Fish and Local Economies.
Read the report:
(Visited 3,862 times, 8 visits today)