Opower had a successful IPO on Friday, raising $116 million on the NY Stock Exchange and boosting its valuation to $1 billion.
Founded in 2007, Opower (NYSE:OPWR) sells cloud-based energy efficiency software to utilities that helps residential customers cut energy use by comparing their consumption to neighbors with similar homes.
The software analyzes a utility's energy data (from smart meters) and then personalizes communications with customers via individualized emails, text messages, automated phone calls and snail mail. They offer concrete suggestions on how to reduce energy and reward them for doing so. The cross-channel approach is designed to enable all customers to engage with their energy data and save on their bills, irrespective of income or access to technology.
The company already serves 93 utilities in eight countries, analyzing data from 52 million people, but there's lots of competition in this new Home Energy Management industry, ranging from established giants like Oracle to Nest, which Google acquired this year.
Like Nest, Opower has a smart thermostat in partnership with Honeywell.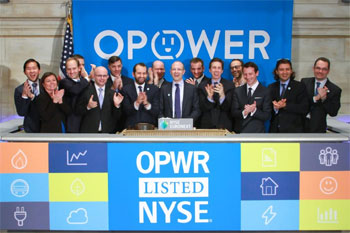 According to Opower, they saved 1.9 terawatt hours of energy in 2013, which would power every household in Miami for a year.
Opower's revenue grew to $88.7 million in 2013 with losses of $14.2 million.
Customers include the UK's largest utility, Baltimore Gas & Electric
and AEP Ohio.
There are several benefit for utilities: the ability to avoid build-out of new power plants; fulfilling energy efficiency mandates in states that have them; and creating better relationships with customers.
A study commissioned by Opower finds that customers aren't satisfied with utilities in terms of cost, personalized information, and outreach. But they look to utilities for energy information and everyone wants lower bills and most are interested in information that tells them how they compare to others, making Opower's platform a powerful way for utilities to beef up their brands.
(Visited 2,964 times, 43 visits today)