by Karen Rubin
California's revolutionary Green Chemistry Initiative is moving ahead, having decided on the first three priority product categories that will be scrutinized under the California Safer Consumer Products law.
They are:
California's Department of Toxic Substances Control chose these categories because there's widespread concern about them and non-toxic substitutes are readily available.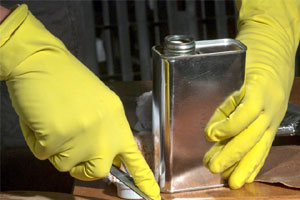 As we said when the law went into effect last October, regulators are taking a huge step forward by focusing on entire classes of products instead of banning specific chemicals from particular products, such as bisphenol A in baby bottles.
The goal is to make hundreds of commonplace consumer items safer – from shampoos and cosmetics, to cleaning supplies and food packaging. There's already a searchable database on harmful ingredients in cosmetics.
Proposed in 2007, signed into law by
Governor Schwarzenegger in 2008, and implemented in 2013 after years of collaboration with stakeholders, it is a game-changer. For
the first time, it requires a full lifecycle analysis of chemicals and their substitutes.
"Before, the manufacturer
could substitute a chemical that turns out to be just as bad or worse,"
says Peter Hsiao, a partner at the law firm Morrison & Foerster who
heads the firm's Environment and Energy Group and Green Products and
Chemicals.
"No other federal
or state statute made that extra step of analyzing the substitute, and the requirement for lifecycle analysis forces the
manufacturer to analyze worker exposure, transport, the customer who uses the
product, and end of life – does someone throw away an aerosol can that has a
little left, and where does that chemical go?,"
notes Hsaio.
After products of concern are identified, manufacturers have to prepare and submit an analysis that describes viable alternatives. The Department of Toxic Substances Control will then decide on its regulatory response, which can include content or use limitations, mandatory recycling programs or a ban on the use of the chemical, among other options.
Eventually California plans to get to the 1800 toxic chemicals it wants to restrict.
When fully implemented, the law will apply to all products made or sold in
California, setting a baseline for the rest of the US as well as global supply chains.
But Hsiao is concerned that California's Department of Toxic Substances Control doesn't
have sufficient expertise in consumer products and whether they will have the funding or staff resources to undertake these
investigations.
Also yet to be seen is whether manufacturers and industry associations will challenge the law.
As if often the case, California took action because federal policymakers haven't. Congress hasn't managed to update the Toxic Substances Control Act of 1976, which
has proved to be weak and ineffectual. The Safe Chemicals Act has been introduced three times in the last year alone, so states have been taking the lead.
Flame Retardants
As of January 1, California removed the requirement that flame retardants must be in the filling of upholstered furniture. That rule flooded the US with the chemicals, which are now found in most everyone's bodies. Research finds they aren't effective in slowing a fire, but they are implicated in a raft of health disorders including cancer.
While the law no longer requires manufacturers to use the chemicals it doesn't ban them from doing so. And true to form, the powerful chemical industry is fighting to keep using the chemicals. One leading manufacturer, Chemtura, has already filed a lawsuit to overturn the new fire safety regulations.
Proposed legislation in California, Senate Bill 1019, would require manufacturers to disclose whether furniture contains flame retardants, but they are now found in a vast range of products including infant and toddler products, upholstery, bedding, electronics and insulation.
Last year, over 160 countries agreed to phase out brominated flame
retardants, but since the US doesn't participate in the Stockholm Convention, it wasn't one of them. Regulations did enter force in the US that finally address formaldehyde in building products, however.
Even fire fighters are against flame retardants and other toxic chemicals commonly found in homes. Because they accumulate over time in peoples' bodies, they are constantly exposed to toxic fumes released by fires; they linger on the skin, clothes and other gear after the fire is extinguished. And they are seeing higher rates of cancer because of it.
Here's a fact sheet on how to identify products without flame retardants and where to find them:
Website:
[sorry this link is no longer available]
(Visited 4,960 times, 10 visits today)