When Greenpeace praised Apple, Google and Facebook last week for moving rapidly to 100% renewable energy, one of the accomplishments they noted was their impact on Duke Energy.
They coaxed the biggest US utility, Duke Energy, to provide renewable energy directly to large electricity buyers.
Google plans to expand its data center in North Carolina and wants renewable energy to power it, so it pushed Duke to develop what's now called the Green Source Rider. It was approved by state regulators in December and is viewed as a model that can be used across the US.
Google's NC data center: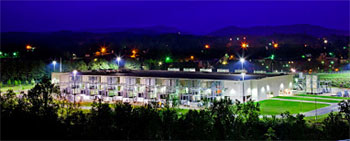 Instead of having to build their own renewable energy plants, large electricity users can pay Duke a tariff – a premium above the standard price for electricity – and either Duke will build a plant to provide that or match customers with third-party suppliers through power purchase agreements. The energy provided doesn't count toward Duke's obligations under North Carolina's Renewable Portfolio Standard and can be sourced from outside the state.
By paying a premium, it would alleviate the need for Duke (and, in the future, other utilities) to based renewable energy development on government incentives.
It could result in an additional 700 MW of solar in North Carolina alone.
Google explains the advantages:
On-site systems typically don't produce sufficient electricity to power large facilities 24/7 and must be supplemented with power from the local utility provider.
Sometimes siting renewable projects off-site is a much better option, especially for larger electricity loads like data centers. The renewable resource may be better (e.g., more wind or sun) in locations distant from the load, allowing more cost effective power generation. It may also be more feasible to build larger power installations (e.g., wind farms) away from the load, where large parcels of land may be available for renewable project development.
This allows utilities to do what they do best: build power plants, procure power, manage the grid, and deliver electricity to customers.
One would think utilities would like this approach – essentially being paid directly to build renewable energy plants – since their business model is so threatened by growing amounts of distributed energy.
"Some of Duke Energy's biggest customers, including Google, Apple, Facebook and the University of North Carolina system
deserve praise for pushing Duke Energy to provide those options. They asked, and Duke is starting to listen, says Robert Gardner of Greenpeace. "Unfortunately, Duke is still turning a deaf ear to its tens of thousands of residential and small business customers in North Carolina who have similarly asked for clean energy choices."
This all took place before the coal ash disaster that now plagues Duke Energy and North Carolina. It would be great if, as part of that settlement, that Duke would be required to significantly expand solar in the state.
(Visited 5,801 times, 4 visits today)