Ikea has bought its first US wind farm, as it steadily moves toward running its stores completely on renewable energy.
At 98 megawatts (MW), Illinois' Hoopeston Wind Farm is the companies biggest, single renewable energy investment to date. Currently under construction, it comes online early next year.
Impressively, it will produce 165% of the electricity consumed by all of IKEA US – 38 stores, five distribution centers, two service centers and one factory).
Located about 110 miles south of Chicago, the project will consist of 49 Vestas 2 MW wind turbines.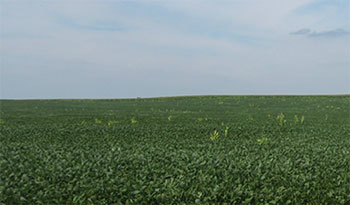 "This investment is great for jobs, great for energy security, and
great for our business. Importantly, it's great for the future of our
climate," says Steve Howard, Chief Sustainability Officer of Ikea Group.
"We are committed to renewable energy and to running our business in a way that minimizes our carbon emissions, not only because of the environmental impact, but because it makes good financial sense," says Rob Olson, Chief Financial Officer of IKEA US. "We invest in our own renewable energy sources so that we can control our exposure to fluctuating electricity costs and continue providing great value to our
customers."
Apex Clean Energy is building the wind farm and will manage it after it comes online. "This project is an opportunity for Apex to work with a new type of investor and partner to expand wind energy development in this country," says Mark Goodwin, President of Apex.
Worldwide, Ikea owns 206 wind turbines through its wind farm
investments in nine countries: US, Canada, UK, Ireland, Denmark, Sweden, France, Germany and Poland.
Ikea is also very active in solar. In the US, 90% of its buildings have rooftop systems, for a total of 38 MW across 20 states. A Colorado store incorporates geothermal and another is planned for a Kansas City-area store that opens this Fall.
And in Britain, Ikea will sell solar systems at all its stores in addition to furniture and housewares.
The company is investing $2 billion in wind and solar by 2015 and has invested $55 million over the past few years on efficiency upgrades. Worldwide, renewables provide 37% of the its total energy footprint right now – 305 stores in 26 countries.
Ikea's goal is to generate as much renewable energy as the total energy it consumes by 2020.
Last year, corporate leaders added over 445 MW of solar on 1000 buildings in 30 states, up 48% from 2012. Ikea came in 5th place for total solar installed, after Walmart, Costco, Kohl's and Apple.
Beyond renewable energy, every product sold in Ikea stores undergoes a lifecycle analysis: materials used, energy use during production and transportation; the ability to recycle at end of life; and increasingly, the durability of products.
It's even modifying the food it serves, moving away from greenhouse gas-producing meats. They figured out that 600,000 tons of carbon emissions comes from the food they serve, about 2% of their annual total.
"If we think of the challenge – society is using 1½ planets worth of resources every year, and on track for more – business as usual isn't an option," Chief Sustainability Officer Steve Howard told Fast Company.
(Visited 7,558 times, 9 visits today)