The first solar farm on an active US Superfund site is now producing energy in Indiana.
After EPA remediated the site – a process that began in 1992 – Hanwha Q CELLS developed the 11 megawatt Maywood Solar Farm. It sits on 43 acres at the Reilly Tar & Chemical Superfund site in Indianapolis.
This is a "significant milestone for the solar industry as a whole in overcoming the legal, financial, regulatory and construction hurdles to create a virtuous cycle, and develop a higher use for brownfield, idle land," says CEO Charles Kim "In completing a
non-subsidized Superfund project, Hanwha Q CELLS has broken a barrier that has frustrated solar project developers for more than 20 years."
That's right, the project didn't get any subsidies beyond that offered through Indianapolis Power & Light's feed-in tariff. Indeed, the company completed the project at, or below market cost using conventional financing, while also managing additional site and environmental requirements at a Superfund site.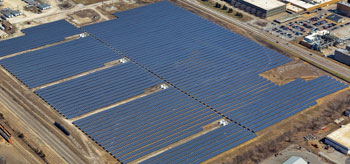 They came up with a proprietary "Soil Disturbance Minimization Plan" which means they barely disturbed the soil during construction – 93% less than conventional construction approaches.
"This innovative solar project demonstrates that
Superfund sites can be redeveloped, says EPA Regional Administrator Susan Hedman. "The Maywood Solar Farm project has transformed a site
with a long history of contamination into a source of renewable energy."
EPA's RE-Powering America's Land Initiative, launched in 2008, identifies contaminated land, landfills and mine sites that would be appropriate for renewable energy. More than 10,000 sites are appropriate for solar, for example, and could cumulatively support 30 times more solar than all currently installed capacity. Over 70 renewable energy projects have so far been built on these lands.
An online Renewable Energy Siting Tool developed by EPA and NREL shows aerial perspectives and data for roughly 11,000 sites in California alone, highlighting 75 priority sites. Another tool locates sites across the country.
Q-Cells was one of the world premier solar cell manufacturers until it closed its doors because of low-cost competition from Chinese manufacturers. It has since been acquired by Hanwha, a conglomerate based in South Korea.
(Visited 6,885 times, 17 visits today)