While some scoff at the move to divest from fossil fuels – saying it won't penetrate the industry's enormous clout and profits – it is gaining traction.
"By putting the target on the fossil fuel industry, the goal is not to have an immediate economic impact … but to isolate it as a moral pariah like apartheid, like tobacco," says Ellen Dorsey, Executive Director of the Wallace Global Fund on Bill Moyers' PBS program. The Fund is leading Divest-Invest Philanthropy,
a coalition of 17 foundations that are guiding the sector on how to divest and replace it with investments in clean technologies instead.
Harvard Pushes Back
After months of resisting student and alumni demands for its $32.7 billion endowment – the largest in the US – to divest from fossil fuels, Harvard University is being pressured by its own faculty.
A university referendum in November 2012 shows that 72% of students and faculty favor divestment. 180 faculty and 800 alumni have signed petitions in support of Divest Harvard, but that still hasn't moved President Faust to action.
So, 93 faculty members sent her a letter calling for the university to immediately divest, saying it is a central issue for them.
"We now know that fossil fuels cause climate change of unprecedented destructive potential. We also know that many in this industry spend large sums of money to mislead the public, deny climate science, control legislation and regulation, and suppress alternative energy sources.
How can the university support greenhouse gas-reducing programs on campus "while maintaining investments that promote their increase locally and worldwide?" they ask.
"Our sense of urgency in signing this Letter cannot be overstated"…."Divestment is an act of ethical responsibility, a protest against current practices that cannot be altered as quickly or effectively by other means. The University either invests in fossil fuel corporations, or it divests. If the Corporation regards divestment as 'political,' then its continued investment is a similarly political act, one that finances present corporate activities and calculates profit from them."
Instead of divesting, Faust says Harvard will address climate change through its investment portfolio by signing voluntary frameworks: United Nations Principles for Responsible Investment (launched in 2006 it had signatories worth $4 trillion that year) and the Carbon Disclosure Project's climate change program. The latter works with institutional investors to drive environmental disclosure and performance of public companies.
Harvard Management Company, which manages the portfolio, will hire its first-ever vice President for Sustainable Investing to incorporate environmental, social and governance factors into investment analyses (about two decades after that movement took off).
Faust also points to The Harvard Campaign, which has raised $120 million for energy and environment initiatives on campus. She says the university will continue to reduce greenhouse gas emissions and is challenging alumni and donors to help establish a $20 million Climate Change Solutions Fund to "seed and spur innovative approaches to confronting climate change." Harvard is also a leader on the $1 Billion Green Challenge, which would establish revolving loan funds for efficiency upgrades at universities.
Last year, Harvard was one of 21 schools to make it onto Princeton Review's Green Honor Roll.
Why not divest? Faust believes that divesting would lower the endowment's financial returns, while having little impact because they own few shares in any one company; that the endowment should not be used as an instrument to compel political or social change; and that divestment is hypocritical because "of our pervasive dependence on these companies."
On Bill Moyers, Ellen Dorsey spoke to the argument about financial returns. The Wallace Fund divested and put that money into clean technologies and has had excellent financial returns, she says. There are no financial losses from putting your money where your mouth is, she insists.
Indeed, the social investing community long ago removed fossil fuel stocks, producing a raft of studies that show investors can get better returns over the long-term through beneficial investments.
The fossil fuel divestment movement is spreading rapidly – to over 500 universities, cities, states, and religious institutions across the US, Europe, Australia and New Zealand. Nine colleges, more than 20 cities, numerous religious institutions a major bank, and foundations controlling nearly $1.8 billion in investments have pledged to divest.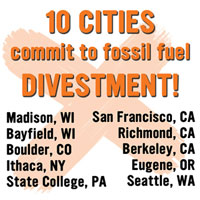 Go Fossil Free lists 200 targeted fossil fuel companies and has guidelines for how to divest from them. 350.org is holding a series of webinars on divestment that includes: Starting A Community Divestment Campaign; Financial Arguments on Divestment:
Website:
[sorry this link is no longer available]
(Visited 15,785 times, 3 visits today)