Before leaving office, one of the last bills Boston Mayor Thomas Menino signed was Article 89, an ordinance that allows farmers to create urban farms within city limits.
City planners have identified the most appropriate municipally-owned land for farmers – vacant lots and even in-between buildings and on especially on rooftops. Under a request for proposals, farmers can buy 3000-6000 square foot parcels for just $100 each as long as it is farmed for 50 years, reports Modern Farmer.
Anyone can apply, but the criteria favors nonprofits and smaller, community-based organizations.
Boston has already spent nearly $10 million to support community gardens – it leads the nation with the most public gardens per capita. But farming for a profit has been illegal until now under the Urban Agriculture Rezoning Initiative.
The first five urban farms, being planted this spring, are mostly in lower income neighborhoods. Officials expect most farms to be on rooftops, using hydroponic greenhouses, because of Boston's climate and lack of other kinds of space.
At 55,000 square feet, Higher Ground Farm will be the second largest rooftop farm in the US. Topping the Boston Design Center in the Seaport District, besides local, fresh food, the farm will keep the building cool, triple the life of the existing roof, and reduce air pollution: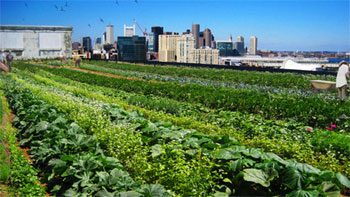 "Urban agriculture is an innovative way to improve city life. Boston's new zoning creates opportunities for entrepreneurs, decreases the distance food travels from farm to table, and better ours communities," Mayor Menino says. "Growing food within our city limits means better access to food and economic empowerment, all while cultivating a sense of neighborhood unity, and greening our city."
The legislation makes Boston the US leader in urban farming and the law goes into great detail to give farmers clarity and certainty on how it is applied. It addresses ground-level farms, roof-level farms, roof-level greenhouses, composting, aquaculture, hydroponics, aquaponics, freight farming, farmers' markets, farm stands, soil safety and raising chickens and bees commercially.
Chicago and New York are also leading on urban farms.
(Visited 4,721 times, 58 visits today)