If all the wind farms planned for Texas are built, an astounding 7 gigawatts (GW) will come online this year – more than the total installed in any other state!
Texas already leads the country with 12.36 GW of wind (only five countries have more wind capacity), and these new projects would increase that by another 60%. In March, wind farms hit a record, supplying 38% of electricity in the state – 10.3 GW.
And the state is about to join the solar leaders when the 400 megawatt Alamo Solar Project comes online in 2016.
The current wind rush comes because of the all-important 2013 deadline, when the production tax credit (PTC) expired again. To get in under the wire, they had to show signs of beginning construction, such as laying foundations or ordering turbines. But not all projects may be able to get financing or find a buyer for the electricity.
One of the wind farms that's under construction is the 1.1 GW Hale Community Energy project – the biggest in the US.
For the first time, wind developers aren't looking to sign 20-year power purchase agreements, reports The Dallas Morning News. Instead, they're looking for contracts in the 3-7 year range, betting that prices will be higher by then. Power prices in Texas are tied to the price of natural gas, which many expect to rise fairly significantly in the coming years, especially if liquefied natural gas exports take off.
During 2013, Texas produced by far the most wind energy in the US, followed by Iowa with less than half the amount. 80% of wind energy came from these and 10 other states in the following order: California, Oklahoma, Illinois, Kansas, Minnesota, Oregon, Colorado, Washington, North Dakota, and Wyoming, reports the US Energy Information Administration.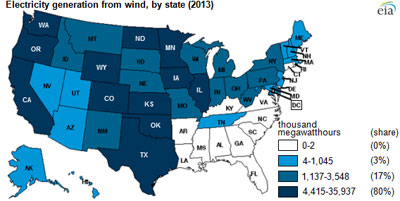 4.4% of US electricity now comes from wind, with Iowa in the lead, getting 27.4% of its electricity from wind, followed closely by South Dakota at 26%. Nine other states get more than 12% of electricity from wind and Texas is on the verge of 10%.
While the US has about 29% of world wind capacity (as of 2012), double that of the previous year, according to the Department of Energy's Wind Technologies Market Report. Still, many countries are far ahead in terms of how much wind contributes to total energy demand: nearly 30% in Denmark; 18% in Portugal and Spain; 16% in Ireland; and 10% for Germany.
Around the world, wind is close to parity with natural gas at $85 per megawatt-hour. As utilities switch from coal to natural gas and exports begin in earnest, prices will rise, making wind a competitive choice, without subsidies.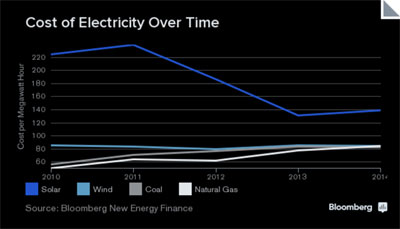 Website:
[sorry this link is no longer available]
(Visited 4,154 times, 4 visits today)