On Friday, the Los Angeles City Council voted unanimously for a moratorium on fracking. Now it goes to the city's attorney for zoning changes and then back to the city council for a final vote.
That followed news from Texas that Exxon's CEO joined a lawsuit to block fracking equipment near his house, and Denton, a city in the cross-hairs of fracking – got a referendum on the ballot to ban it.
Weeks before there was an enormous rally in Maryland, where more than 80,000 people protested a liquefied natural gas plant that would open the door to exports.
Also in the East, a study predicts the Marcellus Shale will be pockmarked by a mind blowing 106,000 new wells. That would lead to 1.3 million acres of land – mostly forest – being paved over with serious consequences for wildlife, watersheds, and of course carbon emissions. Every cement pad affects 50 acres of land, say researchers from The Nature Conservancy. "Mitigating the impacts of energy development will be one of the major challenges in the coming decades," the paper says. It will impact water quality for 22 million people.
Finally, Achim Steiner, Executive Director of the UN Environment Program and Under Secretary-General of the UN, voiced concerns that the fracking boom will delay the transition to renewable energy. "If it is used as a means of not investing in the transition to a renewable energy economy then I think it will become a liability in our struggle to meet climate change targets over this century".
Los Angeles Ban
Fracking will be banned "until the city verifies that fracking does not compromise residents' personal safety or the drinkability of their water," says city councilman Mike Bonin.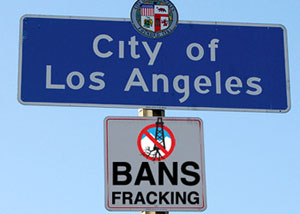 Activists want Los Angeles County to do the same, where there are over 100 active wells.
There are 1800 oil and gas wells in the city of LA, about 10% are active, including Inglewood Oil Field – the biggest urban oil field in the country.
"Until these radical methods of oil and gas extraction are at the very least covered by the Safe Drinking Water Act, until chemicals are disclosed and problems are honestly reported, until we're safe from earthquakes, until our atmosphere is safe from methane leaks, we need a fracking moratorium," City Councilman Paul Koretz said before the meeting.
California Ban Re-Introduced
A bill to ban fracking across California has been introduced for the second time, but it's considered a long shot.
It failed the first time – instead the state passed fracking regulations. Included in the law is a comprehensive study to be conducted over the next two years to evaluate the impact of fracking.
"We're basically telling people, 'Let yourself be guinea pigs and we'll study this. If this is a problem, we'll tell you after the fact,'" Brenna Norton, Southern California organizer for Food & Water Watch, told the LA Times.
The new bill would ban fracking in California until after the study is finished. It would also expand the study to examine health risks to residents that live near fracking sites.
Last week, farmers and food businesses joined the chorus, adding to the 200,000 people that have signed petitions to ban it state-wide.
145 farmers petitioned Governor Brown, joined by 170 chefs, restaurateurs, brewers, retailers and winemakers, who delivered their own petition.
"Fracking makes competition for California's water even more fierce, Paula Getzelman, owner of Tre Gatti Vineyards, told Mintpress News. "Long-term consequences of fracking are even more devastating. California needs to be investing in the people who cultivate the land and feed people, not the oil companies that threaten to pollute our land, water and communities."
So far, Governor Brown, who could put an end to fracking via executive order, still supports going ahead with it because he would rather produce fossil fuels in-state rather than import it.
Meanwhile, fracking continues off the coast of California, where drillers have federal permits to dump over nine billion gallons of fracking wastewater into the ocean every each year.
On March 15, there will be a rally in Sacramento against fracking, Don't Frack California.
Visit Californians Against Fracking:

Website:
[sorry this link is no longer available]
(Visited 7,151 times, 41 visits today)