Next week, the EU's fix to its flagging cap-and-trade program finally goes into effect.
For years, the European Union's Emissions Trading System (cap-and-trade) has been under attack because the supply versus demand for pollution permits was so out of whack.
The program is the EU's signature and pioneering way to meet its climate change targets: 20% lower emissions from 1990 levels by 2020.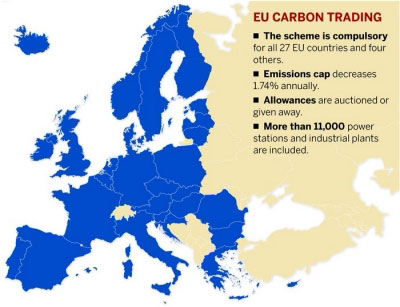 Because emissions were down during the recession and permits were initially given out for free, there has been way more supply than demand. As a result, the cost to emit one ton of carbon dropped as low as EUR 2.41 last year, providing little incentive to lower emissions.
Next week, the EU will begin "backloading" – delaying carbon auctions where permits to emit are sold – which will reduce the number of allowances (permits to pollute) on the market by 53%. With fewer permits on the market the price will go up again, making them valuable enough to influence how much companies pollute.
"We will now see a much tighter market with new pressures on both utilities and industrial companies," says Konrad
Hanschmidt, head of carbon market analysis at Bloomberg New Energy Finance.
In 2008, carbon allowances peaked at EUR 29 per ton of carbon and by 2013 they were down to an average of EUR 4.46. Prices are already up 40% to EUR 7 per ton in anticipation of backloading.
Through the rest of this year, 343 million permits will be sold, about half of what utilities need to buy. That means companies that currently hold permits form the historical surplus will have to sell that much in allowances, giving industrial companies unprecedented
market power, says Bloomberg New Energy Finance.
According to the legislation, however, all backloaded permits will be sold in 2019-20, which means the change will have only temporary impact on prices.
"Carbon
prices in Europe will increasingly depend on industrial firms' willingness to
sell surplus permits that they received for free in the past. The prospect of
further, more ambitious reform to the EU Emissions Trading System means that many of them will demand substantial premiums over the current price. Power companies will
prefer to pay such premiums as long as it remains cheaper to produce power with
coal than to switch to lower-emitting gas-fired generation, "
explains Itamar
Orlandi, lead EU ETS analyst at Bloomberg New Energy Finance.
"By agreeing to backloading, the EU has given a huge vote of confidence
to carbon markets. Policy-makers should now use this momentum to pass further
reforms to provide investors greater confidence that carbon
emissions will carry a meaningful cost in the region over the medium and long
term,"
adds Hanschmidt.
The positive side of lower economic growth – and lower emissions – means it will cost much less to meet the EU's 2020 target.
The first – and still by far the biggest – international system for trading greenhouse gas emission allowances, the EU ETS covers more than 11,000 power plants and industrial facilities in 31 countries. It governs about 45% of the EU's total greenhouse gas emissions. The airline industry was the last to be phased in, which caused an uproar in the US, China and other countries who refused to participate.
Learn more about the EU ETS:
Website:
[sorry this link is no longer available]
(Visited 5,849 times, 74 visits today)