On Saturday, more than 1,200 students protested against the Keystone pipeline at the White House – and 400 were arrested.
The largest act of civil disobedience on the part of America's youth we've seen in a generation, they are protesting in San Francisco today.
"If the Democratic Party wants to keep our vote, they better make sure President Obama rejects that pipeline," Nick Stracco, a student at Tulane University said.
"Our future is on the line. The climate is on the line," Aly Johnson-Kurts, a student at Smith College, told the Post. "When do we say we've had enough?"
Now we're looking forward to the Senate's All-Nighter on climate change, which takes place March 10.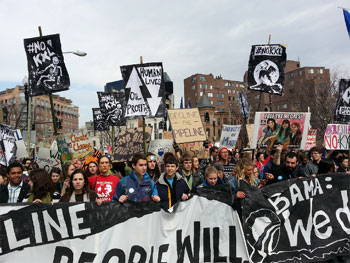 In related news, Arizona's Prescott College announced it will divest from fossil fuels and shift those funds to renewable energy.
Spurred by a recent graduate, Kara Kukovich, she prepared a report that showed the ethical, financial and environmental reasons to divest. It quickly gained support from students, faculty, staff and executives and was approved within months.
Over the next three years, the college will gradually withdraw funds from these companies and will instead use a formula that increases both financial and social return on their investments. Prescott says it will ask its investment managers to develop a fossil free investment model that it can offer other clients.
Prescott joins a dozen other colleges that have made the move, as well as seven cities including San Francisco and Seattle, 15 municipalities, two counties, banks and churches. Last week, 17 foundations joined the cause.
(Visited 4,147 times, 15 visits today)