The first industrial carbon capture and sequestration (CSS) project from natural gas has been given the go-ahead by the British government with Shell as the contractor.
Shell UK is launching the design phase for Peterhead Carbon Capture and Storage in Aberdeenshire, Scotland.
It would capture over 85% of CO2 emissions that would otherwise be released into the atmosphere and then transport it through an existing pipeline to be buried in a depleted gas field 2.5 kilometers beneath the North Sea.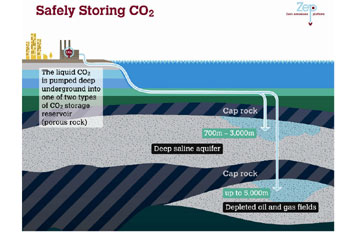 After the design is completed next year, Shell and the government will decide whether to pursue the rest of the project.
If it goes forward, it would capture 1 million tons of carbon emissions a year while providing electricity to over 500,000 homes.
"Demonstrating carbon capture on this existing gas power station would enable us to test the technology and cut emissions from our energy sector whilst we transition to a renewable future," Lang Banks, Director of World Wildlife Fund Scotland, told BBC News.
Last year, the government announced a similar project for a coal plant in Yorkshire, the White Rose CCS project.
Both projects are receiving a combined £100 million from the government for the design phase. By 2050, the government says, CCS could provide more than 20% of the country's electricity and save more than £30 billion a year to meet its climate targets.
The UK has very aggressive climate targets to reach: reducing greenhouse gas emissions 50% below 1990 levels by 2020 and 80% by 2050. Another target is for 30% of electricity to come from renewable energy by 2020.
Scotland's goal is to generate 100% of electricity from renewables by 2020.
Norway's $1 billion capture and storage plant is the largest in the world.
Shell is also pursuing CCS to cut tar sands emissions. It says it can lower emissions by a third at its Alberta, Canada operations, where it processes 255,000 barrels of oil a day.
In the US, some CCS projects have been cancelled but others move forward, and $390 million for research made it into this year's budget. Critics call it a pie-in-the-sky technology that allows the power industry to continue burning dirty fuels while waiting for a technology that will never arrive.
For a review of what's happening in the US, Read our article, Captured Carbon Used for Natural Gas Fracking
(Visited 5,453 times, 10 visits today)