Immediately before coal ash spilled into a North Carolina river, we heard the news that the EPA would be forced by the courts to issue a final rule on coal ash disposal by the end of this year.
After 30 years of delays, Earthjustice represented 10 environmental groups and the Moapa Band of Paiutes in the lawsuit.
Now, we are reminded of why those rules are so necessary and how harmful delays can be for the communities and wildlife that are affected.
Duke Energy
Duke Energy announced today that it finally plugged the leaking pipe that caused the third largest coal ash spill in US history. 82,000 tons of ash leaked from an unlined, 27-acre, 155-million-gallon ash pond at coal plant that closed in 2012.
In 2009, the EPA warned Duke that its 53-year old Dan River ash pond dams were a high hazard to the community after inspections showed leakage, but they couldn't do more without regulations in place.
Last year, Waterkeepers initiated enforcement actions for illegal water pollution from coal ash ponds at all 14 of Duke's coal-fired power plants in North Carolina.
Now, Duke says they will take a "fresh look" at all its ash basins and how they handle ash waste, admitting that ash ponds at eight other retired plants in the state are outdated.
The Problem of Coal Ash
Coal ash is the hazardous waste material that remains after coal is burned. As we've seen in this spill, it contains arsenic, mercury, lead, and over a dozen other heavy metals – many of them poisonous and none of them suitable for making contact with humans or wildlife.
Across the US each year, coal plants produce more than 100 million tons of coal ash. It is dumped into unlined and unmonitored lagoons and landfills and stacked stories-high behind earthen dams without proper engineering, inspection or maintenance.
Without federal oversight, states are left with the responsibility, many of which also don't have regulations. Over the years, coal ash has contaminated more than 200 rivers, streams, lakes and sources of underground drinking water, says Earthjustice.
The 6 cream-colored states are the only ones that do not have coal ash sites: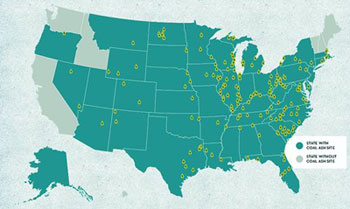 After the disastrous coal ash spill in Tennessee, when a billion gallons of ash burst through a dam at a coal plant, the EPA promised to establish federal disposal standards within the year. It proposed rules in 2010 but they have never been finalized.
Republicans, the coal and utility industries have fought hard to prevent these regulations, saying it would be too expensive and cost jobs and raise electricity prices. EPA estimates that even if it were to implement the most stringent regulations and the costs were completely passed to the consumer, electricity prices wouldn't rise more than 1%.
House Republicans passed two bills to prevent EPA from designating coal ash as "hazardous" waste – which would result in far more extensive oversight than a "solid waste" designation. So far, Democrats have blocked "solid waste" rules, calling them overly lax. That stalemate isn't expected to change anytime soon, says Washington Post.
In 2012, House Republicans passed what was called the "Mother of Anti-Environmental Bills," the "Stop the War on Coal Act," which sought to "protect coal jobs" by blocking environmental regulations.
Now, the coal industry wants Congress to pass legislation that would prevent EPA from finalizing regulations.
Speaking about the chemical spill in West Virginia, which is obviously related, author Jeff Biggers told The Guardian, "Our president and nation must get beyond a crisis management approach to the coal industry, and come to grips with the double-headed source of these disasters – lax and unenforced regulations for coal mining and chemical operations, and the stranglehold of industry lobbies over public officials in charge of regulation." Jeff wrote two books: The United States of Appalachia and Reckoning at Eagle Creek: The Secret Legacy of Coal in the Heartland.
The facts are: the US coal industry employs 136,000 people; the number of cleantech workers in just three states far outweighs that number.
If you want to find out about the health of your nearby streams, rivers and lakes, EPA has an app for that:
(Visited 5,230 times, 45 visits today)