Ever wonder where all the wind turbines are sited in the US?
Now you can satisfy that curiosity – and wind developers have another tool to do better siting – by using the US Geological Survey's online map.
This first national map shows where every single wind turbine is in the US, all 47,000 them. Click on a site and you'll see when the project came online and the size and power capacity of the turbines. You can also search by a name, finding wind farms near various cities or by zipcode.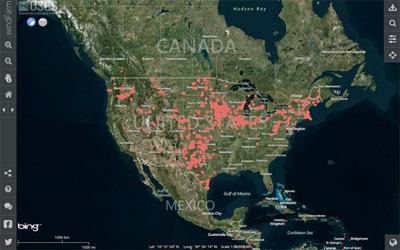 "In making this critical information available to the public, the USGS is providing public agencies and private companies with a new tool to help guide smart landscape-level planning decisions that support domestic energy production while minimizing conflicts," says Sally Jewell, Secretary of Interior. "The data will help improve the siting of future wind energy projects as well as aid land managers in devising more up-to-date land-use and multiple-use plans."
The wind turbine map includes turbines installed as of July 2013, and was created by combining multiple publicly available data sets from local, state and federal government agencies. Using high-resolution imagery, researchers have verified the location of every turbine within plus or minus 10 meters.
Besides helping to site wind farms, the data will be used for research on wind generation efficiency, economic impacts, and on better ways to reduce wildlife impacts.
It will "improve scientists' ability to study a number of factors associated with renewable energy development, including air wakes caused by the turbines, interactions between wind turbines and ground-based radar, and how wind facilities overlap with migratory bird flyways," says Brenda Pierce of the US Geological Survey (USGS), who led the mapping project. "Building on the map and dataset, the USGS will utilize research, modeling and monitoring data to develop a quantitative methodology to assess the potential impacts associated with the widespread development of wind energy on wildlife."
Other tools that guide wind developers to the best sites based on wind, bird migration corridors and other environmental concerns, include one developed by National Renewable Energy Lab and another by the American Bird Conservancy.
Check out the national wind turbine map and tutorial:
(Visited 5,891 times, 79 visits today)