There's nowhere to hide now that Global Forest Watch has launched – citizens around the world now have all the information they need to monitor the state of the world's forests.
Global Forest Watch combines the latest satellite technology, open data and social media crowdsourcing to produce "near-real time, reliable, and actionable data" about what's happening to forests worldwide.
High resolution data from half a billion NASA Landsat satellite images measures whether tree cover is growing or lessening. You can even sign up for alerts that let you know when there's tree cover loss, pinpointing where it's occurring.
"Businesses, governments and communities desperately want better information about forests. Now, they have it," says Andrew Steer, CEO of World Resources Institute, which facilitated the project. Global Forest Watch "will fundamentally change the way people and businesses manage forests. From now on, the bad guys cannot hide and the good guys will be recognized for their stewardship."
Companies that buy commodities such as palm oil, soy and timber will be able to see for themselves whether suppliers are complying with laws and sustainability standards. When they do it right, suppliers will be able to conclusively show their products come from well-managed forests. No more wondering about who is telling the truth!
And forest protection groups can use the information to pressure companies and governments to stop deforestation.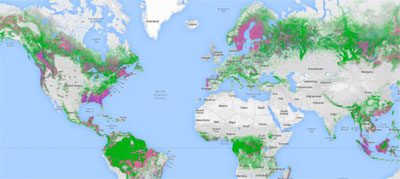 Until now, the usefulness of satellite images has been limited because of the long time lag in getting them online. By the time people see them, the forests are cut, cattles are grazing (or palm trees are growing) and criminals are long gone. It typically takes 3-5 years to produce a national forest cover map.
"With the exception of Brazil, none of the tropical forest countries have been able to report the state of their forests," says Rebecca Moore, engineering manager with Google Earth Outreach and Earth Engine. "Now it will be possible to have near real-time updates of the state of the world's forests, open to anyone to use."
It's also a great tool for corporations that have committed to purchase only from sustainably managed forests. Nestle, for example, says the tool will give it better oversight of suppliers that produce raw materials such as meat, soy and palm oil – which forests are often cleared to grow.
"It is going to help us dramatically to refine our work on the ground, in places where we think there might be issues with our supply chain," says Duncan Pollard, associate vice president for sustainability at Nestle.
Global Forest Watch makes this possible by embedding key information in the images. You can see which palm oil company operates in a specific area of Indonesia where images have shown recent forest destruction. That could lead to a buyer canceling purchases from a supplier.
So if a palm oil company says it will no longer clear primary forests, now they will be watched to make sure they keep that promise.
The REDD market should also get a boost. When organizations buy credits for maintaining or restoring forests, and can actively view their progress, they will be more likely to invest.
It will also give people a birds-eye view of the extent of deforestation across the world.
The initial $25 million to build the tool came mostly from the governments of the US, UK and Norway. It's been developed by a partnership convened by the World Resources Institute, which includes Google and some 40 partners – the UN Environment Program (UNEP) and businesses and NGOs from around the world.
Sarawak Geoportal Launches
Another tool, Sarawak Geoportal, focuses specifically on the Malaysian state, Sarawak, which has been torn apart by deforestation.
The government can no longer misrepresent what's happening on the ground as they have done for political reasons, say The Bruno Manser Fund, which developed and launched the tool.
The online map makes it clear where concessions have been granted for logging and palm oil plantations and shows deforestation. It also pinpoints the exact location of villages, roads and rivers.
It's necessary, says the Bruno Fund, because the government rarely informs indigenous people about projects that involve their native lands. Believe it or not, communities weren't aware that they would have to move because of construction of the very controversial Murum dam until right before they were forced to leave.
"All this information should have been made public by the Sarawak government long ago", says Lukas Straumann, director of the Fund. "The data have deliberately been shut away to facilitate the land grab by the political elite under outgoing Chief Minister Taib Mahmud."
Sarawak Geoportal shows that as of 2009, a maximum of
11% of land area remains covered by primeval forest.
Sarawak Geoportal
Here is Global Forest Watch:
Website:
[sorry this link is no longer available]
(Visited 8,260 times, 41 visits today)