A consortium has formed to promote the growth of microgrids, aptly named the Microgrid Resources Coalition (MRC).
Founding members include Princeton University, NRG Energy, ICETEC Energy, Concord Engineering and the International District Energy Association.
We've written numerous articles about the importance of microgrids and decentralized energy. They provide reliable power when the grid goes down and energy savings even when the grid is operating. Using solar and other clean technologies, they are important for reducing emissions and give buildings from factories to hospitals control over their energy sources.
"Microgrids of various forms will become key distributed components of a smarter, cleaner and much more energy-efficient power system. Innovations in core microgrid technologies like solar, cogeneration, and control systems are happening so fast that microgrids are outpacing existing regulatory frameworks and business models. The MRC will work to ensure our market and other regulatory rules are updated to support microgrids and the new business models that are bringing their benefits to customers and communities," says Steven Corneli, Senior Vice President for Sustainability, Policy and Strategy at NRG Energy.
For example, wholesale market rules and transmission planning aren't designed with microgrids in mind.
Where microgrids are in the US: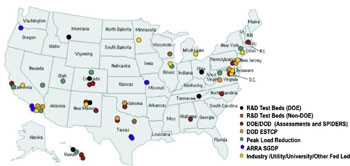 In NY state, to make sure communities can keep the power on during future storms, a $40 million competition will jumpstart at least 10 microgrids across the state. During emergencies, they would disconnect from the grid, maintaining stable power for crucial operations like hospitals, police, fire and gas stations. Solar will be an integral part of that.
Connecticut is the first to develop a state-wide microgrid and New Jersey is developing the first microgrid for a transit system. Sandia National Lab has designed microgrids that are running at more than 20 US military bases.
The United Nations Foundation released a study that evaluates the use of microgrids for rural electrification in developing countries. It sets out best practices based on field visits to microgrid development sites in India, Malaysian Bornea and Haiti.
Here's the study, Micro-grids for Rural Electrification: A critical review of best practices based on seven case studies:
Website:
[sorry this link is no longer available]
(Visited 6,358 times, 11 visits today)