Two more gigantic solar projects have been approved near the Nevada-California border, bringing the number of utility-scale solar projects in the Western US to 14.


The 300 megawatt (MW) Stateline Solar Farm Project in California's San Bernardino County is two miles from the Nevada border, spread out over 1,685 acres of public land.
Next door is the 250 MW Silver State South Solar Project in Primm, Nevada on 2400 acres of public land. 50 MW is finished and sending power to the grid. Its final footprint will be 150 MW smaller than originally conceived because of environmental impacts.
As part of ongoing efforts to protect the threatened Desert Tortoise, the Bureau of Land Management is expanding the nearby Ivanpah Desert Wildlife Management Area by more than 20,000 acres and requiring First Solar to spend over $3.6 million to protect the tortoise. Another $3.5 million will fund research on future efforts that can protect the tortoise in the project area.
Combined, the two solar PV projects will power 170,000 homes and create about 700 construction and operations jobs. First Solar is building both and has 20-year power purchase agreements with Southern California Edison for the energy.
Including these plants, 50 utility-scale renewable energy projects have been approved by the Interior Department since 2009 – 27 solar, 11 wind, and 12 geothermal – for a total of 14 gigawatts. In all, they are supporting 20,000 jobs and, when completed, will power 4.8 million homes. 13 projects are operating so far.
A hallmark of President Obama's climate agenda, his administration can take credit for creating utility-scale renewable energy in the US, taking it from Zero to 14 GW. While some of us would prefer an emphasis on small, distributed solar instead of gigantic plants on public lands, his administration's efforts have made renewable energy – for the first time – an increasingly significant part of the US energy mix.
"When President Obama first took office in 2009, there were no solar projects approved on public lands, and no process in place to move forward the hundreds of applications pending from businesses that wanted to harness renewable energy to help power our nation," says Sally Jewell, Secretary of Interior.
In related news, the Department of Energy (DOE) announced that just three years after launching the SunShot Initiative, the cost of electricity from utility-scale solar PV has reached 60% of the $0.06 per kilowatt-hour target – when solar will be cost-competitive with conventional electricity.
Average electric prices for utility-scale PV are $0.11 per kWh as of the end of 2013, down from $0.21 per kWh in 2010.
To bring the price of solar down to competitive levels by 2020, DOE is focused on the lifecycle of solar systems, from more efficient, high-performing solar modules to soft costs, such as streamlined permitting, installation and interconnection processes.
Ivanpah Comes Online
Nearby in the Mohave Desert is Ivanpah, the world's largest concentrating solar plant, which became fully functional this month, sending 392 MW to the grid. It supplies energy to 140,000 homes and more than twice that during peak hours of the day.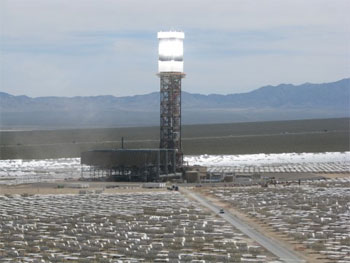 Jointly owned by Brightsource, NRG and Google, Ivanpah is spread across 3,500 acres and is so big it can be seen from the International Space Station.
An even bigger concentrating solar plant begins construction this year, the 500 MW Palen Solar Electric Generating System in Riverside, California. Its two towers will be much higher than Ivanphah's at 750-feet tall. Brightsource is building it with Abengoa.
This could be the end of the line for huge solar thermal plants in the US, however – since these were approved, solar PV prices have plummeted, and the trend is toward smaller rooftop installations. Brightsource cancelled plans for two other massive projects.
"What really gets me excited in the morning is that there are 50 million American buildings that should have solar PV on them," David Crane, CEO of NRG, told Reuters.
We agree!
But BrightSource demonstrated solar thermal technology at scale with these two massive projects, a major goal of DOE's loan program.
Going forward, solar thermal projects are more likely in places like India, where there's lots of land and sun and where cheap natural gas isn't available, Andy Gillespie, project manager for Bechtel (engineering and construction contractor for Ivanpah), told Reuters.
Besides focusing outside the US for big solar thermal projects, BrightSource is also marketing the technology for enhanced oil recovery, to augment existing fossil fuel plants and for desalination. Globally, the market for solar thermal is expected to reach 30 gigawatts by 2020, from 2.5 GW at the end of 2012.
Unforeseen Consequences
Now that Ivanpah is built, California's Energy Commission may require that the even bigger Palen Solar project use either solar PV or solar troughs instead of solar towers.
Solar Towers create so much heat – as much as 1,000 degrees Fahrenheit – they may be killing birds that fly through the area. Dozens of dead birds have been found over
the past several months, some with singed or burned feathers. A two-year study is underway to analyze the impact on birds.
Dead birds have also been found at other kinds of solar plants though – solar PV and trough.
And some airline pilots are complaining about "nearly blinding" glare as they fly over Ivanpah from the sunlight reflected off 173,500 mirrors. One pilot says he couldn't look for other airplanes in the area because of the intense brightness, but others say it's not a problem because they fly over the area quickly.
Another potential problem is water needed for the plant in ultra-dry California. Brightsource is using recycled water but that too adds to costs.
Read about the pros and cons of solar thermal vs solar PV:
(Visited 9,330 times, 11 visits today)