A major rally is planned for February 20 in Baltimore to protest what's being called the Keystone Pipeline of the East.
Built by mega-polluter Dominion Resources, the $3.8 billion Cove Point liquefied natural gas (LNG) export terminal would be the first on the East Coast. It would export natural gas from a network of pipelines and processing plants that would be built across Maryland and Virginia.
This would drive demand for an even greater surge of fracking in the region and vastly expand fossil fuel infrastructure. Gas would be piped from the Marcellus Shale in Pennsylvania and Ohio to Chesapeake Bay, where it would be liquefied in an energy-intensive plant and then poured onto tanker ships for the 6,000-mile journey to India and Japan. Estimates are that one billion cubic feet of fracked natural gas would be exported every day.
The natural gas industry is fighting hard to start exporting because the industry has grown so quickly that there's a glut of gas in the US. The ability to export would enable the industry to get higher prices in the US and abroad.
In fact, today Republican leaders in the House called on the Department of Energy to approve all 20 pending LNG export applications by the end of this year.
The Cove Point LNG facility would emit more carbon than all but three of Maryland's coal plants, and the energy-intensive process of extracting, transporting and processing gas for export would make Cove Point the biggest single source of greenhouse gas emissions in the state, says Chesapeake Climate Action Network.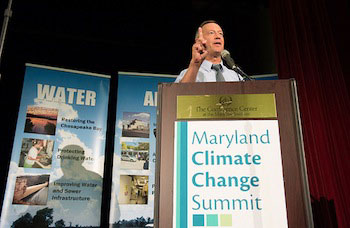 "If the Cove Point export facility is approved, it will provide a strong economic incentive for companies to expand fracking across our region, including in Maryland, where no drilling yet occurs," says Chesapeake Climate Action. "It would turn our communities into industrial sacrifice zones for energy being shipped elsewhere."
Sound familiar? That's exactly what we're facing with the Keystone XL pipeline except that it would transport even filthier crude rather than natural gas.

While Chesapeake Bay supports more than a trillion dollars in economic activity through seafood and tourism, exporting gas would bring massive, 1,000-foot long tankers that carry volatile, potentially explosive liquid fuel. Besides worsening local air quality, billions of gallons of dirty ballast wastewater would be dumped into the Bay each year, and building the LNG facility would require forests to be cleared.
"If Dominion redirected the money it's investing in Cove Point toward wind power, it could increase the East Coast's installed wind capacity by 50% and create more than 7,500 jobs," says Chesapeake Climate Action. Dominion, one of the biggest users of coal, had the winning bid in the second offshore wind auction in the US.
Thanks to Governor O'Malley, Maryland has been leading on climate-change and environmental policies, such as its stellar Greenhouse Gas Reduction Plan. The first state to legislate subsidies for offshore wind it ranks among the top states for installed solar.

Across the US, proposals to build LNG terminals would result in exporting more than 40% of the current production of natural gas.
Learn more about the rally and about the issue here:
Website:
[sorry this link is no longer available]
(Visited 6,003 times, 5 visits today)