After introducing the concept last year, Secretary of Agriculture Vilsack officially announced the formation of seven regional "climate hubs" today.
The idea is to help farmers, ranchers and forest landowners learn how to reduce greenhouse gas emissions while also becoming more resilient to the consequences of climate change: drought, invasive insects and plants, fires and floods.
White House officials say it's among the executive actions President Obama is taking as part of his Climate Action Plan.
Each hub will serve as that region's center for climate change information and outreach to help the agricultural sector learn and adapt to the realities of climate change.
Located in each region of the US, hubs will be sited in New Hampshire, North Carolina, Iowa, Colorado, Oklahoma, Oregon and New Mexico. Three sub-hubs in Michigan, Puerto Rico and California will focus on narrower, more specific issues.
"You're going to see a lot more stress on crops and livestock from climate change. You're going to see crops produced in one area no longer able to be produced, unless we mitigate and adapt now," says Vilsack.
In the Midwest, growing seasons are now two weeks longer, the fire season is 60 days longer, and forests are increasingly threatened by insect outbreaks, fire, drought and storms. Drought alone cost an estimated $50 billion over the last two years.
Flooded farms: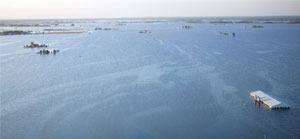 How They Work
Each region will develop its own climate mitigation plan, based on USDA calculations of carbon emissions associated with agricultural practices.
Farmers, for example, will learn how to boost soil quality and limit greenhouse gas emissions by improving the soil so that it sequesters carbon rather than contributing to carbon emissions. Tools include planting cover crops, which are standard in organic agriculture.
A "Carbon Management and Evaluation Tool" (COMET-FARM) will help producers calculate how much carbon their conservation actions can remove from the atmosphere and how their land management decisions impact energy use and carbon emissions.
Producers enter information about their land online – including location, soil characteristics, tillage and nutrient use. The tool then estimates carbon sequestration and greenhouse gas emission reductions associated with conservation practices for cropland, pasture, rangeland, livestock operations and energy.
Once this is established, disaster relief will be regionally based and on how farmers/ranchers are adapting to climate volatility.
Learn more:
(Visited 4,848 times, 8 visits today)