While most people think driving a car is better for the environment than flying in an airplane, that's not necessarily true because airplane engines are getting much more efficient.
In fact, unless you drive a car that gets 33.8 gallons per mile (or carry more than one passenger), new airplanes coming off the assembly line are more fuel-efficient, according to researchers at University of Michigan's Transportation Research Institute.
"Fuel economy must improve 57% (from the current average of 23.8 mpg) in order for light-duty vehicles to match the current energy efficiency of commercial airline flights," notes Michael Sivak at University of Michigan. The option is for cars to carry at least 2.3 people, up from 1.38 today. That could happen given the trend toward car-sharing and ride-sharing.
That doesn't mean, however, that we should fly with abandon, rather it means both forms of travel are extremely carbon-intensive. Flying round-trip between London and New York, for example, generates about 1.5 metric tons of carbon emissions per passenger.
Fuel is the single biggest cost for airlines (more than labor) because the price has quadrupled over the past 10 years – at around $3 per gallon, it's not much cheaper than the rest of us pay to fill up our cars. Last year, US airlines spent $50 billion on fuel, reports Associated Press..
Boeing and Airbus now produce airplanes that are 15% more energy efficient and airlines are buying them at the fastest rate in the history of aviation – ordering over 8,200 in the last five years. 24 planes roll off assembly lines each week, up from 11 a decade ago and that rate is expected to keep climbing.
They aren't only buying them for their fuel efficiency – they are trading in old planes that still have ashtrays in the seat arms for those that have the amenities people look for these days – USB ports, power outlets and roomier overhead bins, for example. New planes are more reliable and some models can fly longer distances, reports Associated Press.

US carriers doubled their capital outlay since 2010 – American Airlines takes delivery of one plane a week – and Southwest, JetBlue and Spirit have all placed major orders. Still, most new planes are being bought by startup airlines that serve the expanding middle class in Asia.
Back in 1970, fuel consumption per-passenger-mile was twice that of an average car trip, but since then the airline industry has actually made progress and the auto industry has just recently started to catch up. The airline industry has cut BTUs per passenger mile 74% compared to 17% for automakers.
Another reason airplanes are a more energy efficient way to travel is because – as every passenger knows – people are crammed into airplanes and there are fewer empty seats. At the same time on the ground, fewer people carpool – in 1970, cars typically had 1.9 occupants, down to 1.38 in 2010, according to Michael Sivak at University of Michigan.
The industry has also been implementing simple ideas that cut fuel use, such as traveling from the airport gate to the runway without using the engines.
This TaxiBot tugs the plane along the ground: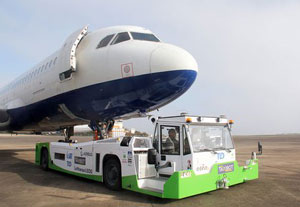 Sivak says 2000 was the year when flying became more fuel-efficient than the average car trip. Taking a train is still the most efficient form transportation, about 40% less energy intensive than airlines.
Since President Obama finally got the auto industry to agree on meeting higher fuel economy standards, at least 228 models reach 34 miles per gallon on the highway – but with the average car in the US at over 11 years old, there's a long way to go before they impact the entire fleet.
In just the next four years, the number of passengers traveling by air is projected to grow by a third, to 3.9 billion, according to the International Air Transport Association!
Although there's great concern about the rapid expansion of the aviation sector, which accounts for 2-3% of global greenhouse gas emissions, cars and trucks are responsible for much more than that – in the range of 15%.
Here Come Biofuels
Boeing announced it would seek approval in the US to use as much as a 50/50 blend of biofuels and jet fuel. It is working with engine manufacturers like General Electric and will seek approval from global standards organization ASTM International.
Once that's obtained, the Federal Aviation Administration would be able to craft fuel standards and limitations for aircraft.
Including government incentives, the blend would cost the same $3 a gallon as conventional jet fuel, while cutting emissions in half, says Boeing. The company wants to use what's called "drop in biofuels from waste cooking oil and fat because it's "virtually identical to petroleum-based diesel at the molecular level." That means it can flow through existing pipelines and engines without making any adjustments.
The supply is there and the price is right, says Boeing. Right now, there's enough supply to meet 1% of global commercial jet fuel demand a year – about 800 million gallons (amazing how much fuel the industry uses!).
"We are collaborating with our industry partners and the aviation community to move this innovative solution forward and reduce the industry's reliance on fossil fuel," says James Kinder of Boeing.
And the airline industry is ready for biofuels, having said in the past they are simply waiting for supply to meet demand. Most airlines have tested them.
Last June, the Midwest Aviation
Sustainable Biofuels Initiative announced that Chicago's
Department of Aviation – which operates O'Hare International and Midway
Airports – and United
Airlines would focus on converting waste streams in the metropolitan area into jet fuel. Honeywell, United, and Boeing are funding research at Purdue
University on ways to convert corn stover into jet fuel.
Last year, United
Airlines signed a historic purchase agreement to buy 15 million gallons of biofuel for flights out of its Los Angeles hub. In March, KLM Dutch Airlines made weekly transatlantic flights on a combination of used cooking oil and conventional jet fuel, as part of an industry-wide pilot program. And there's a demonstration project on the use of 100% biofuels.
Industry trade association, Airlines for America, is also lobbying for approval of drop-in biofuels. "While there are many
questions that need to be addressed about the widespread use of these fuels
to propel commercial aircraft operating in the United States, we are actively
monitoring and encouraging efforts by the US Department of Defense, NASA, FAA, airframe and engine manufacturers, and academic institutions to bring them to the marketplace," they say.

Last year, the worldwide airline industry committed to carbon-neutral growth by 2020 and all-electric airplanes could take off by 2035-2040.
Read our article, How Your Choice Of Airline Affects Emissions.
(Visited 24,045 times, 1,156 visits today)