The Department of Energy (DOE) announced a new initiative to support clean energy entrepreneurs, The National Incubator Initiative for Clean Energy.
This new organization will coordinate a national network of clean energy-focused incubators. It will serve as a central source of information, enabling entrepreneurs to access incubators more easily, while connecting industry with innovative start-ups.
DOE is kickstarting the initiative with $3 million. While that may not sound like a lot of money, it's a critical infusion for these services which provide vital support for entrepreneurs that are trying to commercialize new technologies.
The funds support mentorship, business development, capital access, and manufacturing support provided by incubators.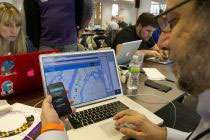 DOE will fund up to five incubators to identify, develop, and implement best practices for top-performing, clean energy-focused incubators.
In 2007, DOE launched a solar incubator program as part of its SunShot Initiative. It has since invested some $92 million in 54 solar start-ups. The funding has inspired almost $1.7 billion in private investment – or roughly $20 in private-sector money for every $1 of federal support, says the DOE.
There are 12 clean energy incubators in New England alone, and NYC recently launched one more generally focused on clean technologies. San Francisco's "CleantechSF" nutures start-ups.
(Visited 5,143 times, 9 visits today)