After several years of poor performance, renewable energy companies are back to doing well on the stock market.
For investors that have hung in there or purchased shares in the past year when they were at their lows, they are seeing nice returns.
We've been keeping you updated on IPOs, here's the latest on mutual funds and exchange traded funds that cover renewable energy.
by Harris Roen
Renewable energy mutual funds have had stellar returns in the past three and 12 months, all showing gains in the double digits. Exchange Traded Funds (ETFs) are also doing well on average, but returns are much more variable.
Mutual Funds
Returns remain excellent for renewable energy mutual funds overall, with annual returns ranging from 15.8%-54.5%. The average mutual fund is up 31.3% for the year, and not a single fund has posted a loss in the past 12 months.
One-month and three-month returns also look good – even funds that haven't seen gains are down less than 1%. One word of caution, though, is that all mutual funds are trading near the top of their 52 week range, which could mean a short-term pullback from here.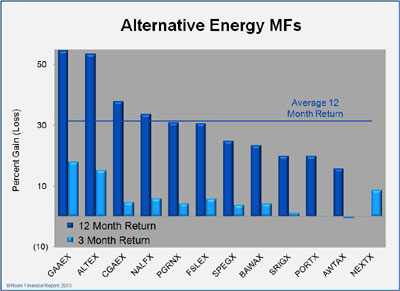 Exchange Traded Funds (ETFs)
Performance of renewable energy ETFs are much more erratic than their mutual fund counterparts.
Overall ETFs are doing well, with 14 out of 17 showing gains for the year.
Two ETFs – First Trust NASDAQ® Clean Edge® Green Energy Index Fund (QCLN) and Market Vectors Global Alternative Energy ETF (GEX) have posted gains better than 50%.
Three funds, however, have losses for the year, with iPath Global Carbon ETN (GRN) down almost 50% in the past 12 months. This exchange traded note, which tracks Barclays Capital Global Carbon Index Total Return, continues to reflect the global paralysis in carbon markets.
Having said that, GRN is up 33.5% over the past three months, and is up 56% from its lows of mid-April. This improvement signals confidence that the European Union is having success in addressing long-term carbon market issues. The gain also reflects a positive reaction to new Chinese emissions trading initiatives aimed at aiding troubled carbon markets.
Guggenheim Solar (TAN) has done extremely well, up 77% for the year, owing to a recovery in solar stocks that started at the end of 2012.
Recent news from the trusted industry research group IHS Electronics & Media Market Intelligence contends the improved margins that photovoltaic companies reported in the second quarter of 2013 should continue to increase. I expect the solar sector to hold strong for the rest of 2013.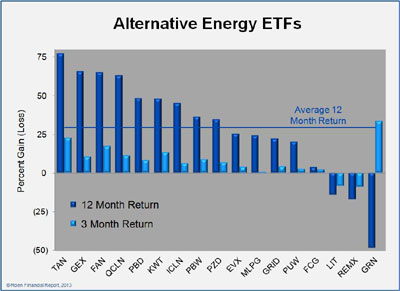 ++++
Harris Roen is Editor of Roen Financial Report, the only service left that supports green investors.
Roen Financial Report closely covers the universe of almost 30 renewable energy Mutual Funds and Exchange Traded Funds. We use a proprietary ranking method to pick the best funds, looking at measures that include fees, risk, tax liability, and the financial health of individual holdings within each fund. Subscribers can see the complete list of green funds, including rankings and technical breakdowns, in both Excel and PDF format.
SustainableBusiness.com produced the green investment newsletter, Progressive Investor for 9 years, and is now a partner with Roen Financial Report. Subscribe through us and get a discount.
(Visited 57,208 times, 3 visits today)