Even the most expensive, luxury cars come in hybrids now, offering an alternative for the super wealthy environmentally conscious buyer.
Those buyers want seriously high performance cars with reduced emissions that go beyond even Tesla's Model S and BMW's new electric car.
Ferrari's $1.34 million hybrid LaFerrari sports car has sold out since its debut in March. The cars are being produced in limited editions to create an air of exclusivity. Just 499 LaFerrari's were made, each numbered and fit with a driver's seat molded to its owner's body!, reports Bloomberg.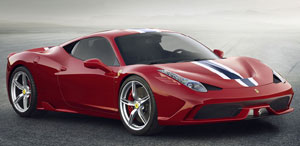 Chairman Luca Cordero di Montezemolo told Bloomberg that his strategy is to boost earnings by making customized versions of its vehicles in small batches. He's sticking with hybrids, rather than electric cars.
Porsche will soon offer a $845,000 hybrid version of the 918 Spyder and BMW is readying the i8 plug-in hybrid supercar. Land Rover will begin selling two hybrid SUVs in the UK this fall.
There are other reasons for producing these cars, say manufacturers. "It makes sense to test new technology with luxury and high-end cars as customers tend to be less price sensitive, and more willing to pay for additional technology," Sascha Gommel, an analyst with Commerzbank AG told Bloomberg. "In addition, hybrid technology could make a sports car even more dynamic as an electric powertrain improves the acceleration."
For example, Ferrari's hybrid has two electric motors and a 12-cylinder gasoline engine, which together give the car more horsepower than other Ferrari model – and it uses 40% less fuel.
Ferrari's next hybrid debuts next month at the Frankfurt auto show. The 458 Speciale sports car is its most aerodynamically efficient production car ever and accelerates to 100 kilometers per hour in just 3 seconds!
As of April, hybrid car sales are up 32% this year in the US. Hybrids now save about 500 million gallons of petroleum a year, according to the Department of Energy's National Renewable Energy Lab.
(Visited 8,168 times, 2 visits today)