It seems that every week we hear about out-of-control wildfires in the western US. There are so many fires this year that the US Forest Service doesn't have the money to fight them.
Right now 51 major uncontained wildfires are raging according to the National Interagency Fire Center – in California, Alaska, Arizona, Idaho, Montana, Nevada, Oregon, Utah, Washington and Wyoming, reports Associated Press. More than 19,000 firefighters are actively fighting them.
This year so far 5300 square miles of forest has burned in 32,000 fires.
After spending almost $1 billion dollars on fire-fighting this year alone, the Forest Service is taking $600 million from other areas to fill the gap. And this is time of year is when the worst fires begin.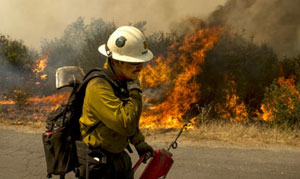 Associated Press
One of the 50 large wildfires right now is near Yosemite National Park. It covers 25 square miles and is only 5% contained. There is a state of emergency in Montana where are 19 large fires. Another big one has been raging for weeks in Oregon's Columbia Gorge. Progress is being made in Idaho on a 169-square-mile fire.
Climate change could soon need its own line item in the US budget because unbelievably, the federal government spent more on disasters last year than on transportation or education.
Every taxpayer paid $1100 last year toward the $100 billion it cost to respond to extreme weather events, according to an analysis by the Natural Resources Defense Council.
Even more distressing is that the responsibility for paying for climate disruption has shifted to taxpayers and away from private insurers. Taxpayers are paying triple that of private insurers to help people recover from drought, storms, floods and wildfires.
(Visited 4,376 times, 5 visits today)